Enter to Win the ENERGYbits Fit & Fabulous Giveaway worth $4,500 in Wellness and Health Products, ending July 31st.
EnergyBits has partnered with some of their good friends across the wellness and fitness industries to bring you a prize you'll love.
Sign up now to WIN over $4,500-worth of some of the coolest products in wellness.
The Energybits Sweepstakes ("Sweepstakes") is open to all humans age 21 or older at time of entry. Residents of Taiwan, South Korea, Portugal, Italy, Austria, China, Russia, Hong Kong, Greece, France, Japan, Spain, and Czech Republic are not eligible to enter or win.
Energybits Winners will be selected in a random drawing from all eligible entries received. Random drawing will be conducted on or about 08/03/2020l. Winners will be notified by email.
Prizes:
* 1 bag of ENERGYbits® (1,000 Tablets)
* 1 bag of RECOVERYbits® (1,000 Tablets)
* 1 bag of BEAUTYbits® (1,000 Tablets)
* 1 bag of VITALITYbits® (1,000 Tablets)
* 1 Keto-Mojo Blood Glucose Monitor Promo Bundle + 100 each Glucose and Ketone Strips
* 1 set of the Alitura Skincare Collection
* 1 All in One Roller Kit from RadRoller
* 1 copy of The Paleo Thyroid Solution
* 1 copy of The Primal Kitchen Cookbook
* 1 Primal Kitchen avocado oil cooking spray
* 1 canister Primal Kitchen unflavored collagen peptides
* 1 canister Primal Kitchen Keto matcha collagen latte
* 1 bottle Primal Omegas
* 1 bottle Primal Probiotics
* 1 bottle Primal Sun
* 1 jar of EACH FLAVOR OF Primal Kitchen mayo (3)
* 1 jar of Primal Kitchen no-dairy Vodka sauce
* 1 copy of Beyond Fasting by Dr. Dan Pompa
* 1 bottle of CytoDetox
* 1 bottle of Fastonic
* 1 copy of Ketotarian by Dr. Will Cole
* 1 copy of The Inflammation Spectrum by Dr. Will Cole
* BoldBody Apparel Exclusive Leggings & Bra Set
* 2 of Dave Asprey Boxes by Biohacked
* 1 variety pack of BeautyBar Collagen Dark Chocolate
* 6 packs of Beekeeper's Naturals B.LXR Brain Fuel
* 1 KUL CBD Experience Kit
* 1 PHYTOMER OLIGOMER® SILHOUETTE Contouring Enhancer Marine Bath
* 1 PHYTOMER LOTION P5 Targeted Curve Concentrate
* 1 variety pack Keto Bricks
* 3 month subscription to CLEAN.FIT Box
* 1 "Me" Size Chili Pad
* 1 each JOYA Cacoa Elixer Blend, Matcha Elixer Blend, Turmeric Elixer Blend
* 2 Single Servings Redmond Real Salt, 2 Redmond Real Salt Refill Pouch
* 1 Redmond Sea Soak Bath Salt
* 1 Jurlique Moisture Plus Rare Rose Serum
* 1 Jurlique Moisture Plus Rare Rose Cream
* 1 Jurlique Rosewater Balancing Mist
* 1 Functional Movement Assessment by Lauren Sambataro
* 2 month supply of Balance the SuperFood Shot
* 1 Primal Organics Oral Detox Kit
* 3 variety packs of AKUA Kelp Jerky
Make sure to confirm your email after you enter, to complete your entry.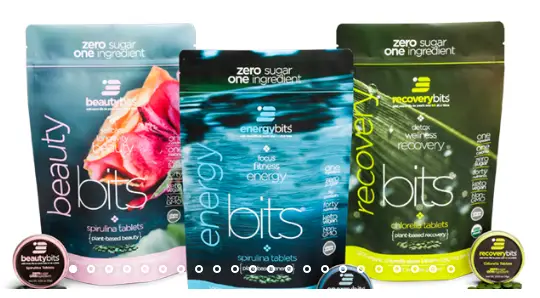 Make sure you visit our NEW Freebies From This Week – List! We also have an ongoing list for those interested in New and Current Giveaways and Sweepstakes! To get all new daily freebies & giveaways don't forget to sign-up for our newsletter! We also have active social media accounts so check out our Facebook group, our Twitter feed or maybe your prefer Instagram.
Thank you from the Freebies Frenzy team!