Check out a list of resources for cable tv and streaming content for the whole season (September and October)! Halloween horror from kid-friendly or funny to scary!
If you are bummed about the lack of Halloween going on this year, because 2020 is the year of the Covid Pandemic and sheltering in place … We have all your binge-watching and DVR (things to record) lists right here!!
Below you will find great compiled lists of what is going on via Cable (Comcast/Xfinity/Satellite/Network/etc) – and streaming services like Netflix, Hulu, Amazon Prime and others.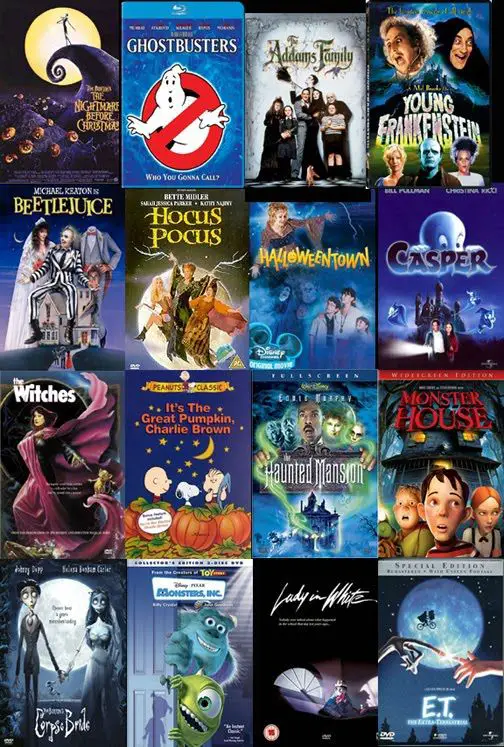 This season is full of great programming … this year they started in September and have put out all the great spooky tv shows and movies early.
So no matter if you are into great horror, the classics, family friendly horror, comedy horror, psychological thrillers, dark atmospheric shows, you name it – it's there.
Have fun checking out all the lists!!
Here is a sampling of some great compiled lists out there ….
Regular cable has offerings like; AMC FearFest, Freeform's 31 Nights of Halloween, Disney Channel's Monstober, Syfy's 31 Days of Halloween, Nickelodeon Halloween Movies, Travel Channel's Ghostober, Shudder's 61 Days of Halloween, Food Network's Haunted Food Specials, and Turner Classic Movie's October Horror lineup ….
Along with VOD Video on Demand services like Vudu and Google Play – with Streaming services like Amazon, Netflix, Hulu, and so on.
Along with great programming on popular streaming networks.
Listing of All the binge-worthy horror lists ….