Read & Share

this Announcement from the USFDA, on the

Lean Cuisine Product Recall

, on 92,000 Pounds of Chicken Meals!
Lean Cuisine

Product Recall From

US-FDA

:

If you've purchased Lean Cuisine Baked Chicken, then don't miss this recall! Because, the FDA has warned that LEAN CUISINE Baked Chicken meal products may be contaminated with extraneous materials, specifically pieces of white hard plastic.
What is a Recall

?

The Food and Drug Administration (FDA) and the Center for Disease Control (CDC) in the United States are the departments responsible for investigating potential problems with food safety. Of course, from their investigations, they may issue warnings to the public. In other words, a Recall by the FDA or CDC means that the product in question is not safe for the specified reason.

Additionally, guidelines and instructions are given for each recall, based on the specific threat at hand. For example, they may warn that consumers should not consume the product. Or, they may suggest that the company responsible is willing to refund the purchase price.
Why

is There a Recall?

The recall stems from the company receiving five consumer complaints involving hard white plastic found in the product. The firm believes the mashed potatoes used in the production of the baked chicken meal products had pieces of a plastic conveyor belt that broke during production.
Which Products

are included in this Lean Cuisine Product Recall?
* 8 5/8-oz. (244g) carton trays of "

LEAN CUISINE Baked Chicken

, white meat chicken with stuffing, red skin mashed potatoes and gravy"
with a lot code of 0246595911 and "Best Before" date of October 2021.
Where Was

the Recalled Product Sold?
These products were shipped nationwide to retailers and distributors.
What Should You Do

?
If you have purchased these products, you are urged not to consume them.
These products should be thrown away or returned to the place of purchase.
Consumers with questions about the recall can contact Nestlé Prepared Foods, at (800) 993-8625.
– Click Link BELOW IMAGE For MORE INFORMATION! –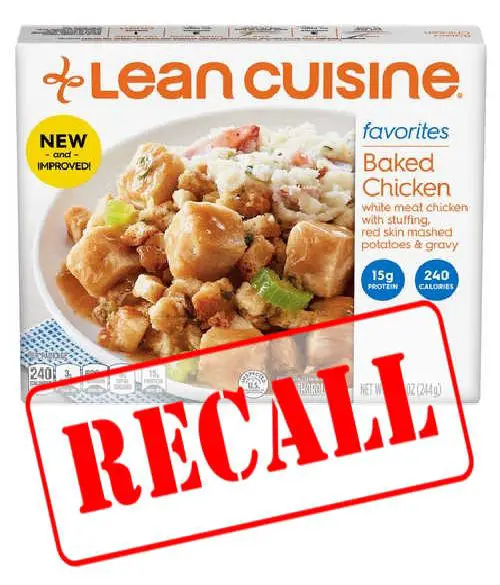 Thank you from the Freebies Frenzy team!