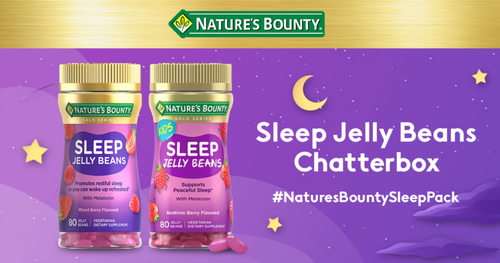 As someone who's invested in health and wellness, you'll know how essential a good night's rest is for staying healthy and feeling your best. That's why today, we're incredibly excited to share with you a fantastic new offer from Ripple Street that's sure to help you experience the benefits of a deep and restful sleep.
Nature's Bounty Sleep Jelly Beans Chatterbox is currently looking for 1,000 people to apply to host this fantastic product – and if you're selected, you'll have the opportunity to share your experiences and give feedback on this incredible new offer.
So what makes Nature's Bounty Sleep Jelly Beans so special? For starters, they're made with a unique blend of natural botanicals and melatonin, which is a natural hormone that regulates sleep. This powerful combination helps users fall asleep faster and stay asleep longer – all while enjoying a delicious and convenient jelly bean format.
But the benefits of Nature's Bounty Sleep Jelly Beans don't stop there. They are also free from artificial flavors, sweeteners or colors, so you know you're getting a product that's genuinely good for your body. Plus, they're gluten-free and non-GMO, making them a great choice for anyone who's looking for healthier options to enhance their sleep.
So, what's in it for you? Well, if you're selected to host this Nature's Bounty Sleep Jelly Beans Chatterbox, you'll get to experience the fantastic benefits of this incredible new product for yourself. You'll also get to share your experiences with others through social media, video reviews, and word-of-mouth – all while earning fantastic incentives and rewards.
But that's not all – you'll also get access to exclusive product information, tips, and tricks for getting the most out of your Nature's Bounty Sleep Jelly Beans. You could even get the chance to participate in exciting contests and giveaways, and connect with others who share your love for natural health and wellness.
So don't miss out on this incredible opportunity – apply to host a Nature's Bounty Sleep Jelly Beans Chatterbox today and start experiencing the incredible benefits of this fantastic new product for yourself. Remember, the last day to apply is May 4th, so be sure to act fast and secure your spot in this incredible offer.
Claim this great opportunity today.