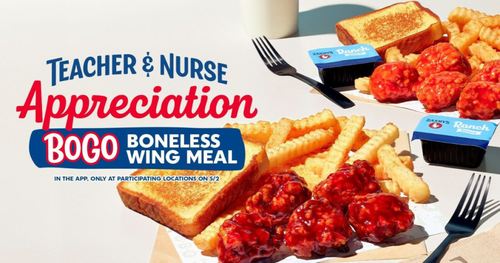 As a marketing professional, it gives me great pleasure to introduce you to the Zaxby's Teacher & Nurse Appreciation Offer. This promotion is designed to recognize the invaluable contributions that these two groups of professionals make to society. Zaxby's is a popular fast-food chain that specializes in delicious chicken meals, and with this offer, you can enjoy their Boneless Wings Meal at a discounted price.
To redeem this offer, all you need to do is download the app from Google Play or the App Store. Once you have the app, select two regular Boneless Wings Meals and apply the Buy One, Get One Boneless Wings Meal Reward where shown on the app. At checkout, the price of one Meal will be deducted. This is a fantastic deal, and it's an excellent way to enjoy a delicious meal while showing appreciation to teachers and nurses.
Teachers and nurses are the unsung heroes of our society. They work tirelessly to ensure that our children receive a good education and that we are healthy. Their efforts often go unnoticed, and that's why Zaxby's is stepping forward to recognize them. This offer presents an opportunity for us to show our appreciation for their hard work, dedication, and selflessness.
If you're a teacher or nurse, or you know someone who is, then this offer is perfect for you. You can enjoy a Boneless Wings Meal at a discounted price, on top of the great taste that Zaxby's is known for. As you savor the delicious chicken, you can reflect on the excellent work that you or your loved ones do each day. This promotion is a way to say 'Thank you' for your service to the community.
In conclusion, the Zaxby's Teacher & Nurse Appreciation Offer is a fantastic promotion that recognizes the tireless efforts of our educators and healthcare professionals. It's an excellent opportunity to enjoy a great meal while showing appreciation to those who serve our communities every day. So, don't miss out on this amazing deal. Download the Zaxby's app and start enjoying delicious Boneless Wings Meals today!
Claim this great opportunity today.