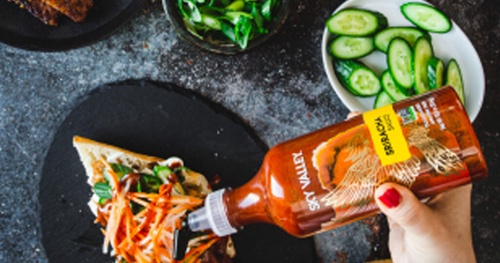 Attention all food lovers and spice enthusiasts! Have you ever tried Sky Valley Sriracha Sauce? If not, then you're in for a treat! This sauce is made with the finest ingredients and packs a punch of heat that will leave your taste buds dancing. And the best part? You may have the chance to receive it for free!
Social Nature is a platform that offers natural products for consumers to try out for free in exchange for their honest reviews. This time around they are offering Sky Valley Sriracha Sauce as a possible product to test out. To participate, simply sign up for Social Nature if you are not already a member and select "I Want It," then sit back and wait. If selected, you will receive an email with further instructions on how to claim your free Sky Valley Sriracha Sauce.
Now, let's talk about the flavor of this sauce. Sky Valley Sriracha Sauce is a blend of red jalapeño peppers, garlic, and distilled vinegar, with a touch of sweetness from organic sugar. It has a smooth texture that is perfect for dipping or drizzling on your favorite dishes. The heat level is moderate and not overwhelming, making it a great option for those who enjoy mild to medium spiciness.
Here are some ideas on how to use Sky Valley Sriracha Sauce:
1. Add it to your barbecue sauce for a kick of heat.
2. Drizzle it on top of scrambled eggs for a spicy breakfast.
3. Mix it with mayo for a zesty sandwich spread.
4. Use it as a marinade for grilled chicken or shrimp.
5. Dip your fries in it for a tasty snack.
Don't miss out on the chance to try this delicious sauce for free. Register for Social Nature and select "I Want It" for your chance to be selected. Be sure to keep an eye on your email for a notification if you're chosen. We have a feeling that once you try Sky Valley Sriracha Sauce, it's going to become a staple in your pantry.
Claim this great opportunity today.