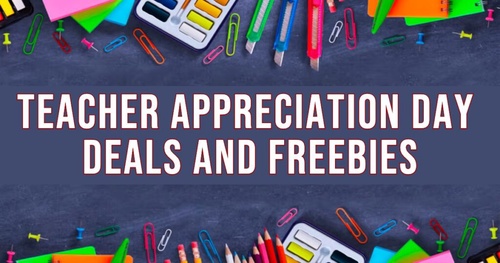 As we celebrate National Teacher Appreciation Day on May 2nd, let's take some time to recognize the amazing teachers that have made a positive impact on our lives. Educators are the unsung heroes of our society, working tirelessly every day to mold the minds of future generations.
That's why we're excited to announce a promotion to show teachers just how much we appreciate them! Teacher Appreciation Week is right around the corner, starting on May 8th and running through May 12th. To kick things off, we're offering some amazing freebies and deals exclusively for teachers!
Teachers can enjoy a free meal at select restaurants, as well as discounts on movie tickets and retail purchases. The best part is, all you have to do is show your school ID! We've also partnered with local businesses to offer special deals and discounts to educators during the entire week.
But wait, there's more! We're also giving away a grand prize to one lucky teacher – a weekend getaway to a luxurious resort. It's our way of saying "thank you" for all that you do.
We know that teaching can be a challenging and often thankless job, which is why we're thrilled to be able to give something back to the amazing educators of our community. We hope that this promotion will inspire others to take a moment to thank the teachers in their lives for all that they do.
To register for this offer, simply visit our website and fill out the registration form. This offer is exclusive to teachers, so be sure to have your school ID handy when you fill out the form.
Again, we want to express our sincere gratitude to all teachers – you are the backbone of our society, and we couldn't do it without you. Thank you for everything that you do, and we hope to see you at our participating locations during Teacher Appreciation Week!
Claim this great opportunity today.