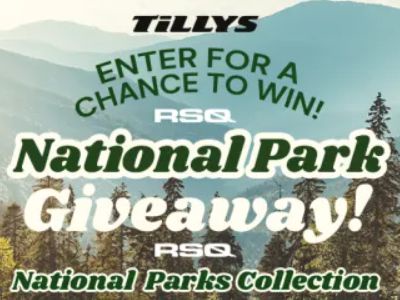 Are you a lover of the great outdoors? Do you enjoy exploring the natural beauty and wonder of our planet? If so, you won't want to miss out on Tillys RSQ x CAN National Park Week Collection Sweepstakes!
In honor of National Park Week, Tillys and RSQ have teamed up to create a stunning collection of outdoor apparel that embodies the spirit of adventure and exploration. And to make it even more exciting, they're giving away two annual National Park passes to lucky winners who register for the sweepstakes.
What's so special about these annual passes, you might ask? For starters, they provide access to over 2,000 federal recreation sites across the United States, including all national parks, national wildlife refuges, and other federally-managed lands. This means you can experience some of the most awe-inspiring natural landscapes our country has to offer, from the rugged peaks of Yosemite to the stunning waterfalls of Niagara.
But that's not all – annual National Park passes also come with a host of other perks and benefits. You'll enjoy free entry to all participating sites for a full year, as well as discounts on amenities like camping, boating, and guided tours. Plus, you'll be supporting the National Park Service in their mission to preserve these incredible natural wonders for generations to come.
So how can you enter to win these amazing prizes? It's easy! Simply register for the Tillys RSQ x CAN National Park Week Collection Sweepstakes online. You'll need to provide some basic information, like your name and email address, but the process only takes a few minutes.
Once you've entered, be sure to spread the word to your friends and family. Share the sweepstakes on social media, or tell your hiking buddies about your chance to win free National Park passes. The more people who enter, the greater your odds of winning.
And even if you don't end up taking home one of the coveted annual passes, you can still show your love for our national parks with the RSQ x CAN collection. From graphic tees to cozy sweatshirts, this apparel line is designed to inspire adventure and exploration in every wearer. And best of all, a portion of the proceeds goes directly to the National Park Foundation, helping to preserve these precious resources for future generations.
So what are you waiting for? Register for the Tillys RSQ x CAN National Park Week Collection Sweepstakes today, and start planning your next outdoor adventure. Whether you're an experienced hiker or a first-time explorer, there's no better way to experience the beauty and majesty of our national parks than with an annual pass in hand. Good luck and happy trails!
Claim this great opportunity today.