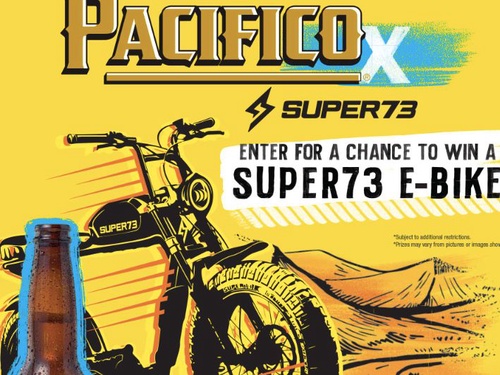 Are you ready for a chance to win a custom Pacifico Clara Super73 E-Bike? This exciting opportunity is available for those living in Arizona, California, Hawaii, Nevada, New Mexico, and Texas. If you reside in any of these states, keep reading to find out how you can enter to win this amazing prize worth $4,000!
Pacifico Clara Beer has always been passionate about creating a laid-back lifestyle, and what better way to live that lifestyle than by cruising around on a custom E-bike. The Pacifico Clara Super73 Sweepstakes is the perfect opportunity for anyone looking to upgrade their bike game or for those who want to experience the thrill of riding an E-bike for the first time.
The Super73 E-bike is a unique combination of a vintage motorcycle and an electric bike. Equipped with retro looks and modern tech, this trendsetting bike has become a major hit among the bike community. The Pacifico Clara Super73 Sweepstakes takes it up a notch by offering a customized version of this popular bike.
To enter, all you have to do is visit the Pacifico Clara website and fill out a simple registration form. If you're already a fan of Pacifico Clara beer, be sure to sign up for their newsletter and receive additional chances to win this awesome prize.
This sweepstakes is not just an opportunity to win a bike, but it's also a chance to experience Pacifico Clara's lifestyle firsthand. Imagine cruising down the beach or exploring the city on your Super73 E-bike, sipping on an ice-cold Pacifico Clara beer on a warm day. It doesn't get much better than that!
So, what are you waiting for? Enter now for your chance to win a custom Pacifico Clara Super73 E-Bike valued at $4,000! This is an opportunity you don't want to miss.
Claim this great opportunity today.