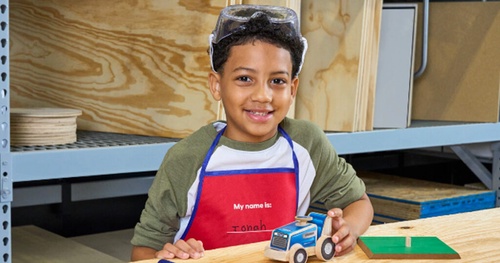 Attention all DIY enthusiasts and photography lovers! Are you ready to add a creative touch to your home decoration? Lowe's is hosting a FREE Lawn Mower Photo Holder build from the workshop event that you don't want to miss. Whether you're looking for a unique gift for a loved one or want to showcase your own photos, this event is for you. And the best part is, you can do it all yourself!
Imagine a rustic, vintage feel that combines the beauty of nature with your favorite memories. This is exactly what you can expect from the Lawn Mower Photo Holder project. The photo holder has a classic lawn mower design that can hold all kinds of pictures, from family portraits to scenic landscapes. It's a wonderful way to add character to your home or office space, and it's sure to be a conversation starter when friends and family come over.
If you're ready to get started on the project, all you need to do is follow a few simple steps. First, click the link below to reserve your kit. Once you've registered, you'll be able to select a time slot that works for you. We recommend making your reservation as soon as possible, as spots are limited and filling up quickly.
Once you arrive at the workshop, you'll receive everything you need to complete the Lawn Mower Photo Holder project. This includes all the necessary materials and tools, as well as helpful instructions from our friendly staff. You'll also have the opportunity to meet other DIY enthusiasts and make new friends.
But what if you've never built anything before? Don't worry — this project is perfect for beginners. Our staff is there to guide you every step of the way, and we're confident that you'll have a finished product that you'll be proud to display.
So what are you waiting for? This event is perfect for anyone who loves DIY projects or wants to add a unique touch to their home decoration. Register now and reserve your spot for this exciting workshop. We can't wait to see you there and watch your creative ideas come to life!
Claim this great opportunity today.