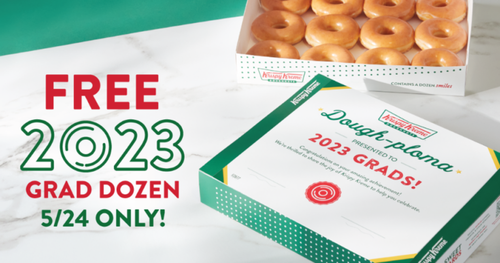 Attention all 2023 high school and college graduates! Are you getting ready for your big day? The day you've been working towards for years? Well, we want to help celebrate your achievements with a sweet treat!
Here's the scoop – on May 24th, 2023, Krispy Kreme is giving away FREE dozens of doughnuts to all 2023 graduates who bring any of their 2023 graduate swag to a local Krispy Kreme location. That's right, all you need is your tassel, your student ID, or even a shirt with your graduation year on it to claim your reward.
We know how much you've sacrificed and worked for this moment, and we want to be a part of your celebration. So, we will be giving away a FREE dozen of Krispy Kreme Doughnuts to every 2023 high school and college graduate who comes to our stores with their graduate swag on May 24th, 2023.
Now, we know what you're thinking – how can you possibly resist this offer? Well, we're making it even sweeter for you. With our melt-in-your-mouth, crispy, golden doughnuts, you can choose from any of our classic flavors or even try the limited edition flavors that we'll have available just for this special day.
But remember, this offer is only available on May 24th, 2023, and only for 2023 graduates, so make sure you tell all your fellow classmates and friends, so they too can join in on the fun.
Don't miss out on this amazing opportunity to celebrate your graduation day with some delicious Krispy Kreme doughnuts. Remember, all you need is your graduate swag, and we'll take care of the rest.
Head to your nearest Krispy Kreme location on May 24th, 2023, and we'll have a FREE dozen of Krispy Kreme doughnuts waiting for you!
So, are you ready to celebrate your achievements in style? Make sure you mark your calendar for May 24th, 2023, and bring your graduate swag to your local Krispy Kreme store. We can't wait to see you there!
Claim this great opportunity today.