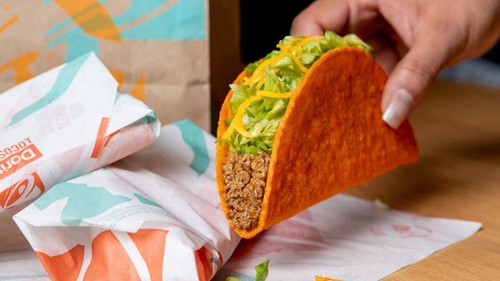 Are you ready for some FREE deliciousness from Taco Bell? Today is your lucky day! For a limited time only, Taco Bell is running a promotion where you can score a FREE Doritos Locos Taco with any $1.00 purchase on the Taco Bell app! Yes, you read that right: FREE TACO!
Taco Bell's Doritos Locos Tacos have been a fan favorite since they first hit the menu years ago. With the perfect combination of seasoned beef, lettuce, shredded cheddar cheese, and flavorful taco sauce, all nestled inside a crunchy Doritos shell, it's no wonder why so many people can't get enough of them.
Now, with this limited-time offer, you can experience the magic of the Doritos Locos Taco for yourself, without spending a penny! All you have to do is make any $1.00 purchase on the Taco Bell app, and the free taco will be added to your order.
And the best part? This offer is available TODAY ONLY! So don't wait another second, download the Taco Bell app now and take advantage of this amazing promotion while it lasts.
To access the offer, simply go to MY REWARDS section on the Taco Bell app, and you will see the free Doritos Locos Taco waiting for you. It's really that easy.
But wait, there's more! By downloading the app, you will also have access to exclusive deals and promotions that are only available to app users. So not only will you get a free taco, but you will also be able to save money on your future Taco Bell orders.
So what are you waiting for? Download the Taco Bell app now and start scoring some amazing deals today. Don't forget to make your $1.00 purchase to get your free Doritos Locos Taco – the perfect afternoon snack or dinner addition that won't cost you a penny.
Register for this promotion now and satisfy your hunger with a free Doritos Locos Taco from Taco Bell. Hurry, this offer is available for today only, so don't miss out on this incredible deal!
Claim this great opportunity today.