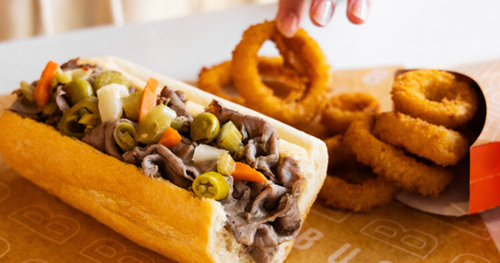 As a marketing professional, I am excited to announce the latest promotion from Buona Restaurant's. Are you a fan of Italian Beef or looking for a delicious Beefless Sandwich option? Look no further because Buona Restaurant's has got you covered!
If you happen to live near one of the 27 Buona Restaurant's locations, you're in luck! We've got an amazing offer that you won't want to miss out on. All you need to do is download the Buona app on your phone and you'll be able to score a FREE regular Italian Beef or Beefless Sandwich (up to 1 topping).
The Buona Italian Beef sandwich is an iconic Chicago-style sandwich. It's a delicious combination of thinly sliced roast beef, juicy sweet peppers, and hot giardiniera (spicy pickled vegetables). But if you're a vegetarian or vegan, don't worry, the Beefless sandwich is just as delicious with plant-based beefless meat, sweet peppers, and giardiniera.
The best part is, it's completely free! Whether you're a long-time fan or trying out Buona Restaurant's for the first time, this is a great offer that you don't want to miss out on. The app is easy to use and will keep you up to date on any upcoming promotions from Buona Restaurant's.
To take advantage of this offer, simply download the Buona Restaurant's app on your phone and register for an account. Once you've done that, navigate to the "Rewards" section of the app, and you'll see your free sandwich reward. All you have to do is show the reward to the cashier at the restaurant, and they'll take care of the rest!
Don't wait any longer to indulge in a delicious Italian Beef or Beefless Sandwich from Buona Restaurant's. Download the app and register for your free sandwich today. And if you know someone who loves freebies as much as you do, make sure to share this offer with them too!
Claim this great opportunity today.