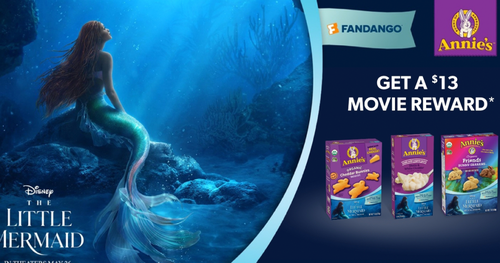 Looking for a fun and exciting way to earn a free movie ticket to see the new Little Mermaid film? Look no further! We have the perfect promotion for you.
Annie's has announced a new promotion that allows customers to receive a free movie ticket to see The Little Mermaid with the purchase of three specially marked products in one transaction between 4/23/23 and 6/30/23. This is an amazing offer you definitely won't want to miss out on!
So, how does it work? Simply purchase the required three Annie's products in one transaction, then submit your receipt at the link provided below. Once your receipt is approved, you will receive a free movie ticket to see the new Little Mermaid film at a participating theater of your choice.
This promotion provides the perfect opportunity to stock up on some of your favorite Annie's products while also scoring a free movie ticket in the process. The Little Mermaid is a beloved classic, and the new film promises to be just as magical and exciting as the original. This is a chance to treat yourself or your loved ones to a fun and memorable movie experience.
Additionally, purchasing Annie's products is a great way to make a difference. Annie's is dedicated to creating delicious and nutritious products while also making a positive impact on the world. They value sustainability and strive to create products that are good for both people and the planet.
So what are you waiting for? Head to your local grocery store and start shopping for Annie's specially marked products. Once you have made your purchase, don't forget to submit your receipt to the link provided below and secure your free movie ticket to see The Little Mermaid.
This promotion is only available for a limited time, so don't delay. Snag your free movie ticket while you can and enjoy all the magic and wonder of The Little Mermaid on the big screen. We hope to see you there!
Claim this great opportunity today.