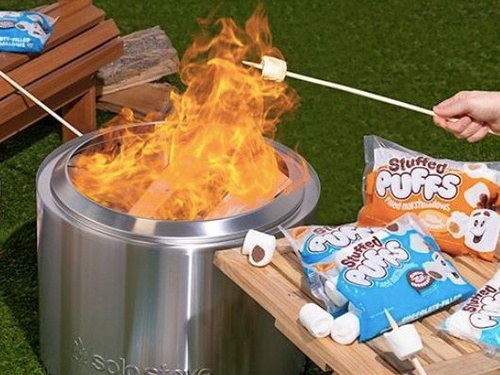 Are you ready to take your s'mores game to the next level? Look no further than the Stuffed Puffs S'mores Sweepstakes! Three lucky winners will each receive a Solo Stove portable fire pit and three cases of Stuffed Puffs marshmallows, the perfect combination for nights around the fire with family and friends.
But why settle for ordinary s'mores when you can switch things up with Stuffed Puffs? These delicious marshmallows are filled with creamy chocolate, making them the ultimate game-changer for campfire treats. And don't worry about having to bring a whole chocolate bar to melt; the filling in the marshmallows makes it a breeze to whip up s'mores in no time.
And let's talk about the Solo Stove portable fire pit. We all know that a big part of the fun of s'mores is the experience of sitting around the fire with loved ones. This fire pit makes it easy to do just that, without the hassle of building a fire from scratch. Plus, it's easy to pack up and take with you on weekend camping trips or to the beach.
So how can you win? It's simple!
All you have to do is register for the Stuffed Puffs S'mores Sweepstakes and follow the entry instructions. Spread the word to your friends and family, too; who knows, maybe you'll win and be able to share the joy of s'mores with them around your new fire pit!
Don't miss your chance to win big with this amazing sweepstakes. Register now and make sure you have everything you need to take your s'mores game to new heights this summer!
Claim this great opportunity today.