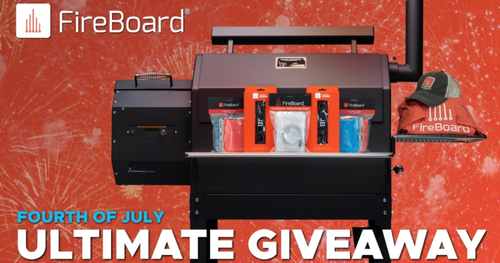 If you're looking for an exciting way to celebrate the upcoming 4th of July holiday, then look no further than the FireBoard/Yoder 4th of July Giveaway! This incredible promotion is sure to be a great way to kick off your summer, and offers some of the best prizes around.
At the heart of this promotion are two amazing products that are perfect for any outdoor enthusiast. The FireBoard is an innovative digital thermometer that makes grilling and smoking meats a breeze. With its easy-to-read display and Bluetooth capabilities, you can monitor your meats from your smartphone or tablet, ensuring that everything is cooked to perfection.
But that's not all – the winner of this giveaway will also receive a Yoder YS640s Pellet Grill, which is widely regarded as one of the best pellet grills on the market. With its spacious cooking surface and sophisticated temperature control system, this grill is ideal for cooking up all your favorite meats and vegetables.
To be eligible for this giveaway, all you have to do is register your name and email address on the website. Once you've done that, you'll be automatically entered into the drawing for the FireBoard/Yoder 4th of July Giveaway, and could be walking away with one of these incredible prizes.
So what are you waiting for? If you're a fan of grilling, smoking, or outdoor cooking in general, then this is the promotion for you. Head over to the website today and register to win – who knows, you could be the lucky winner of a brand new FireBoard and Yoder YS640s Pellet Grill!
Claim this great opportunity today.