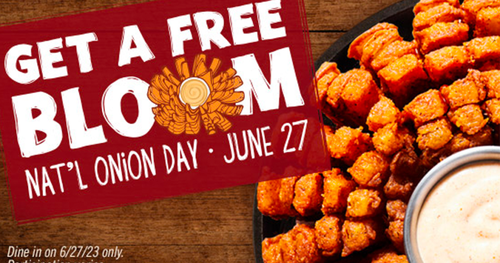 Attention steak lovers! Do you love visiting Outback Steakhouse for their mouth-watering steaks and scrumptious sides? Do you love the rich and tasty flavor of their famous Bloomin' Onion? If you answered yes to either of those questions, then mark your calendars for June 27th, 2023 because you're in for a treat!
On this day, Outback Steakhouse is celebrating National Onion Day by offering their beloved Bloomin' Onion for free! That's right, you can sink your teeth into a crispy, golden fried onion appetizer for absolutely no cost whatsoever. All you have to do is dine in at any participating Outback Steakhouse location and mention "NATIONAL ONION DAY" to your server to get your free Bloomin' Onion.
There's no better way to kick off the summer season than with a delicious free meal at Outback Steakhouse. Imagine sinking your teeth into that crispy bread crumb coating, revealing a tender and sweet onion within. The combination of flavors and textures is sure to make your taste buds dance with delight! As tasty as it is, the Bloomin' Onion can definitely enhance your dining experience at Outback Steakhouse. It's like a party on a plate that you wouldn't want to miss.
But wait, there's more! Outback Steakhouse offers a variety of mouth-watering steaks cooked to perfection, from their classic Outback Special to their renowned Bone-In Ribeye. You can also indulge in their savory sides, such as the Garlic Mashed Potatoes or the Grilled Asparagus. With such a varied and delicious menu, you'll definitely find something to suit your appetite, no matter what your cravings may be.
To make the most of National Onion Day and claim your free Bloomin' Onion, be sure to visit Outback Steakhouse on June 27th, 2023. Don't forget to spread the word to your friends and family – you wouldn't want to miss out on this special occasion. This offer is valid for dine-in only, so gather up your foodie squad and head over to your nearest Outback Steakhouse to savor some delicious food.
So what are you waiting for? Take advantage and enjoy National Onion Day at Outback Steakhouse with a free Bloomin' Onion! Mark your calendars, spread the word to your family and friends, and get ready to indulge in some heavenly food. We can guarantee that you'll be coming back for more, but for now, just make sure to register for this promotion to claim your free Bloomin' Onion. Who doesn't love free food, especially when it's as tasty as this?
Claim this great opportunity today.