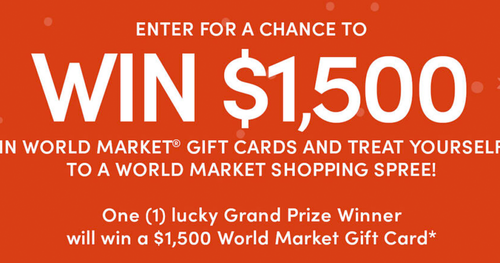 Are you ready to indulge in a shopping spree this summer? World Market has got you covered with their Summer Shopping Spree Giveaway! You could be the lucky winner of a whopping $1,500 in gift cards!
Now is the perfect time to spruce up your home decor, add some unique furnishings, or stock up on your favorite gourmet foods and wines. With so many options available at World Market, the possibilities are endless!
Not only does World Market offer a diverse range of products, but they also pride themselves on bringing you items from all over the world. You can discover treasures from all corners of the globe and infuse your home with the culture and spirit of faraway lands.
Entering the Summer Shopping Spree Giveaway is easy. All you have to do is register on their website, and you'll be in the running to win the $1,500 in gift cards. Imagine all the amazing items you could buy with that kind of prize money!
Whether you're in need of some new outdoor furniture to entertain guests this summer or want to add some unique decor pieces to your living space, World Market has it all. Their selection of high-quality products combined with their commitment to fair pricing makes them a top choice for shoppers from all walks of life.
So why wait? Register for the Summer Shopping Spree Giveaway today and start dreaming of all the wonderful things you could add to your home with $1,500 in gift cards from World Market. This is a chance you definitely do not want to miss!
Claim this great opportunity today.