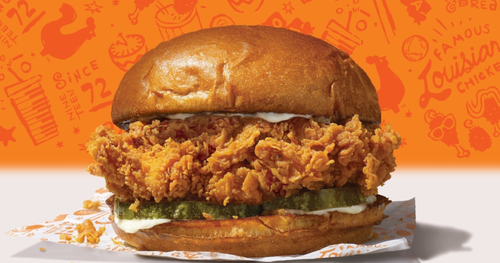 Popeyes to Offer BOGO Chicken Sandwich Deal
Attention all fried chicken lovers! Are you ready to indulge in an irresistible deal that will satisfy your cravings? Look no further than Popeyes. This year, Popeyes is celebrating not one, but two occasions that are just too delicious to ignore – July 4th and National Fried Chicken Day (July 6). And what better way to commemorate these food-filled festivities than with a Buy One, Get One (BOGO) offer on their famous Chicken Sandwiches.
Starting from June 29th through July 9th, Popeyes is giving you the chance to buy any Chicken Sandwich combo and get an a la carte Chicken Sandwich for free! With a variety of mouthwatering options available, including Classic, Spicy, Blackened, Bacon & Cheese, there's something for everyone to indulge in. It's the perfect opportunity to round up your friends and family for a delicious meal that will leave everyone wanting more.
Popeyes has become renowned for their crispy, flavorful fried chicken, and their Chicken Sandwich certainly lives up to the hype. Each sandwich is carefully crafted to perfection, featuring a tender, juicy chicken fillet, perfectly seasoned and breaded, served on a soft and toasted brioche bun. It's then topped with your choice of classic or spicy mayo and crunchy pickles, adding a burst of tangy flavor to every bite. One taste is all it takes to understand why this sandwich is an absolute must-have.
But what sets Popeyes apart from the rest? It's not just the scrumptious chicken or the heavenly combination of ingredients. It's the experience. When you walk into a Popeyes restaurant, you're greeted with a warm and friendly atmosphere that will make you feel right at home. The aroma of freshly cooked chicken fills the air, tantalizing your taste buds and building anticipation for the incredible meal that awaits you. And now, with this BOGO offer, you can enjoy that experience with a friend or loved one, creating lasting memories over a shared love of fried chicken.
To take advantage of this limited-time offer, all you have to do is visit your nearest Popeyes location between June 29th and July 9th. Order any Chicken Sandwich combo of your choice – Classic, Spicy, Blackened, or Bacon & Cheese – and you'll receive an extra Chicken Sandwich for free. It's a deal that's simply too good to resist.
So, what are you waiting for? Bring your appetite, your friends, and your excitement to Popeyes for a BOGO Chicken Sandwich deal that will leave you craving more. Celebrate July 4th and National Fried Chicken Day in style by enjoying the ultimate chicken feast. Don't miss out on this incredible opportunity – mark your calendars and get ready to satisfy your chicken cravings like never before!
Register now to receive the latest updates about this exciting promotion and stay in the loop for future delicious deals!
Claim this great opportunity today.