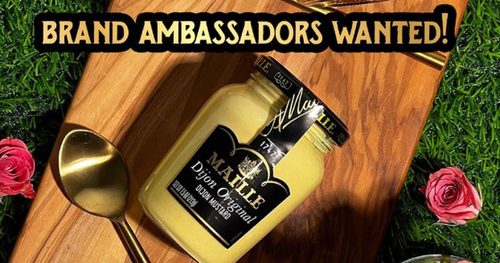 Title: Become a Maille Brand Ambassador and Unleash Your Culinary Creativity!
Are you a connoisseur of gourmet mustard? Do you possess an unrivaled passion for creating delicious culinary masterpieces? If so, Maille, the iconic gourmet mustard brand, has an incredible opportunity for you – become a Maille Brand Ambassador!
Imagine receiving complimentary Maille products, exploring your culinary skills, and having your unique creations showcased on their social media platforms and website. This is a chance for you to not only indulge in the finest gourmet mustard but also share your love for food with the world.
By becoming a Maille Brand Ambassador, you'll join a global community of like-minded food enthusiasts who appreciate the incredible taste and versatility of Maille's products. This exclusive program will allow you to get creative in the kitchen, all while promoting a brand renowned for its exceptional quality and flavor.
As a Brand Ambassador, you'll receive complimentary products from Maille seasonally. With these tantalizing ingredients, you'll have the opportunity to transform your meals into works of culinary art. Whether you're a budding chef or a passionate home cook, this partnership will offer you the chance to elevate your cooking and push your boundaries.
So, what's required of a Maille Brand Ambassador? It's simple – all you need is a passion for food, a willingness to experiment in the kitchen, and the ability to capture your creations through captivating photos or videos. As a Maille Brand Ambassador, you'll be asked to provide 3-5 photos or videos of your culinary masterpieces or kitchen must-haves.
The best part? Maille will feature your creations on their social media channels, website, and other promotional materials. This not only showcases your talent and creativity but also helps inspire others to explore the world of gourmet cuisine with Maille. Your dishes will have the potential to reach thousands of people who appreciate the art of good food.
Imagine the satisfaction of seeing your favorite recipes featured alongside Maille's premium products throughout their campaigns, promotions, and events. You'll have the opportunity to connect with fellow food lovers, receive recognition for your culinary prowess, and potentially even collaborate with other ambassadors.
This is your chance to make a mark in the culinary world and share your innovative ideas with a global audience. As a Maille Brand Ambassador, you'll gain exposure, develop new connections, and expand your horizons as you immerse yourself in a community that speaks the language of exquisite flavors.
So, are you ready to become a Maille Brand Ambassador and embark on a gastronomic journey like no other? If you're passionate about gourmet cuisine and eager to showcase your culinary creations, then this is the perfect opportunity for you.
To apply for the Maille Brand Ambassador program, simply fill out the registration form on their website. Don't miss the chance to join this exclusive community and let your culinary expertise shine!
Apply today and let the world taste the magic of your Maille-inspired creations. Together, let's redefine gourmet cuisine and make every meal a culinary masterpiece!
(Note: The link to apply is intentionally not included in this blog post)
Claim this great opportunity today.