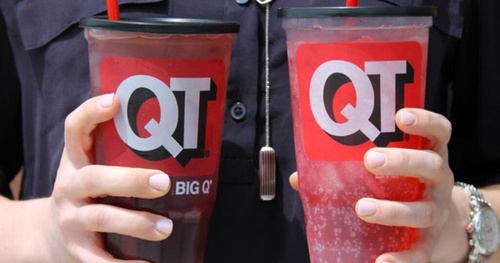 Title: Quench Your Thirst with a Free Big Q Drink at QuikTrip!
Introduction:
In the scorching heat of summer, nothing beats an ice-cold beverage to keep you refreshed and energized. And guess what? We have a fantastic promotion that will do just that! QuikTrip, the beloved convenience store chain, is giving away free Big Q drinks! Whether you're a loyal customer or new to the QuikTrip experience, this promotion is bound to leave you feeling both satisfied and quenched. So, do you have a QuikTrip around you? If so, keep reading to find out how you can avail of this incredible offer!
The Big Q Drink Experience:
QuikTrip is renowned for its extensive range of quality products, and the Big Q drink is no exception. With a wide selection of flavors and unlimited choices, you can create your beverage just the way you like it. From thirst-quenching soft drinks to revitalizing iced tea and lemonade, the Big Q drink has something for everyone. Embark on a flavor adventure and explore the vast options available, all while savoring the joy of customization!
How to Redeem Your Free Big Q Drink:
To take advantage of this exciting promotion, all you need is the QuikTrip app. If you already have it installed on your device, congratulations! You're just a few taps away from satisfying your thirst for free. Open the app and navigate to the promotions section. There, you'll find the offer for a complimentary Big Q drink, waiting to be claimed. Simply follow the prompts, and voila! Your refreshing beverage will be ready to enjoy.
Don't have the QuikTrip app yet? No worries! You can easily download it for free from your device's app store. Once installed, open the app and prepare to discover a world of convenience and savings right at your fingertips. Aside from this fantastic promotion, the QuikTrip app offers numerous benefits and features that make your daily pit stops more rewarding, such as exclusive discounts, mobile ordering, and convenient payment options.
Why Should You Register?
By registering for this promotion, not only will you get to enjoy a free Big Q drink, but you'll also gain access to exclusive perks and ongoing offers from QuikTrip. Imagine the convenience of ordering your favorite items ahead of time and skipping the queue, all while enjoying special discounts. It's like having your very own QuikTrip concierge, making your life simpler and more enjoyable!
Conclusion:
Imagine sipping on your favorite Big Q drink on a hot summer's day, knowing that it was absolutely free. Thanks to QuikTrip's generous promotion, you can turn this dream into a reality. Don't miss out on this opportunity to treat yourself or your loved ones to a refreshing beverage of your choice, customized to perfection. So, what are you waiting for? Register for this promotion today and indulge in a delightful Big Q drink experience like no other!
*Register now to claim your free Big Q drink at QuikTrip!
Claim this great opportunity today.