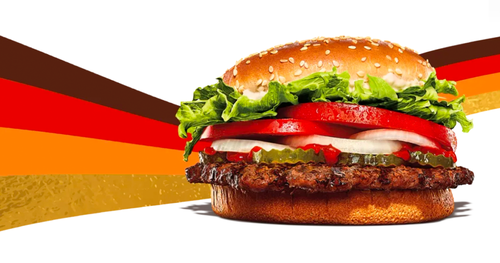 BOGO Whoppers at Burger King
Looking for a cheap lunch or dinner idea? How about sinking your teeth into the iconic and delicious Whopper burger from Burger King? Well, here's some great news for all you burger lovers out there – Burger King is currently running an incredible promotion where you can enjoy a buy one, get one free deal on Whoppers! Yes, you heard it right – double the Whopper goodness at the price of one!
From now until July 8th, 2023, Burger King is letting you relish the mouthwatering classic Whopper burger with a fantastic buy one, get one free offer. This limited-time promotion is bound to satisfy your cravings without draining your wallet. Trust me, you wouldn't want to miss out on this irresistible deal!
To take advantage of this amazing offer, all you have to do is download the Burger King app. Once you have the app, simply navigate to the promotions section and you'll find the BOGO Whopper coupon waiting for you. It's as easy as that! With just a few taps on your smartphone, you can unlock this fantastic discount and satisfy your hunger with two hearty Whopper burgers.
Now, let's talk about the Whopper itself – what makes it so special? Well, the Whopper is truly a masterpiece in the world of burgers. It starts with a flame-grilled, juicy beef patty that is perfectly seasoned to give it that delectable, savory flavor. Then, it's topped with fresh lettuce, ripe tomatoes, crunchy pickles, sliced onions, and creamy mayo – all sandwiched between a soft, sesame seed bun. The combination of these ingredients creates a harmonious blend of flavors and textures that will leave you craving for more.
What sets the Whopper apart from other burgers is not just its taste, but also its size. This burger is substantial, satisfying even the heartiest of appetites. With this buy one, get one free deal, you can share the Whopper experience with a friend or treat yourself to two of these delicious creations. It's the ultimate win-win situation for all burger enthusiasts.
Whether you're a long-time fan of Burger King or new to the Whopper experience, this promotion is the perfect opportunity to indulge in a wholesome meal that won't break the bank. So, gather your loved ones, grab your smartphone, and head to your nearest Burger King to take advantage of this incredible offer.
Remember, this deal is only available until July 8th, 2023, so make sure you don't miss out! Download the Burger King app today, unlock the BOGO Whopper coupon, and embark on a culinary journey like no other. Treat yourself to the unparalleled taste of the Whopper and discover why it has been a favorite for burger aficionados around the world.
Don't let this delicious opportunity slip away. Register with Burger King today and witness the magic of the BOGO Whopper promotion firsthand. Trust me, your taste buds will thank you for it!
[REGISTER NOW]
Claim this great opportunity today.