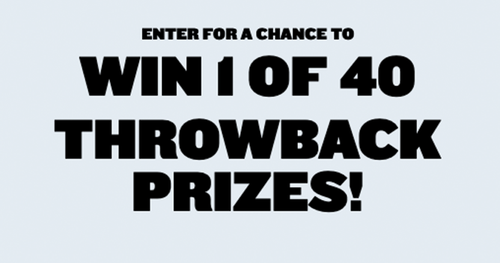 Introducing Mike's Hard Freeze Blast from the Past Sweepstakes!
Are you ready to blast into the past? If you are someone who loves reminiscing about the good old days, then this is the perfect promotion for you! Mike's Hard Freeze, the refreshing and oh-so-delicious frozen beverage, is excited to present the Blast from the Past Sweepstakes!
As we find ourselves in the midst of the modern world, sometimes it's nice to take a step back and remember the simpler times. And what better way to do that than by indulging in the nostalgic flavors of Mike's Hard Freeze? With this sweepstakes, we are offering you the chance to win an incredible trip down memory lane!
So, let's dive right into the details of Mike's Hard Freeze Blast from the Past Sweepstakes. By participating, you will have the opportunity to win an all-expenses-paid trip to any destination of your choice that brings back memories from your favorite era! Whether it's a city known for its iconic landmarks or a small-town charm that tickles your fancy, the choice will be entirely yours.
Imagine strolling through the streets, feeling like you've stepped back in time. As you explore the sights and sounds of the place you've chosen, you'll surely be filled with a sense of nostalgia. Whether you're reliving the '80s with neon lights and big hair, or embracing the '90s with flannel shirts and grunge music, it'll be an experience you won't forget!
But wait, there's more! In addition to the grand prize, there will be weekly winners who will receive a year's supply of Mike's Hard Freeze. That's right – you could have a freezer stocked with your favorite frozen drink all year round! From classic flavors like Lemonade and Blue Raspberry to exotic options like Watermelon and Mango, each sip will transport you to a different time and place.
Now, you might be wondering how you can get your hands on these amazing prizes. It's simple! All you have to do is register for the sweepstakes. Just imagine yourself enjoying that perfect blend of nostalgia and refreshing taste, courtesy of Mike's Hard Freeze.
So, what are you waiting for? Don't miss out on the chance to win a trip that will transport you back in time or a year's worth of your favorite frozen beverages. Whether it's reminiscing about the '50s, '60s, '70s, or any other era that holds a special place in your heart, this sweepstakes is an opportunity you don't want to pass up.
Whether you're a fan of the old-school classics or a devotee of the latest trends, Mike's Hard Freeze Blast from the Past Sweepstakes is a chance to enjoy the flavors of the past while embracing the excitement of the future. So, get ready to embark on an unforgettable journey down memory lane!
Visit [link] to register now and enter the Mike's Hard Freeze Blast from the Past Sweepstakes. Your chance to win awaits!
Claim this great opportunity today.