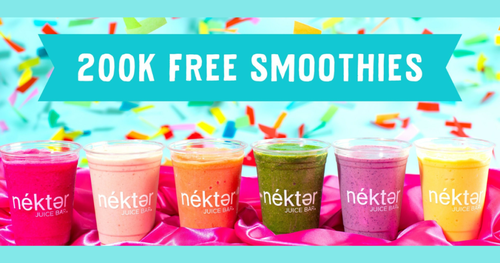 Title: Nékter Juice Bar's 200,000 Smoothie Giveaway – Sip into Summer Bliss!
Introduction:
Are you a smoothie enthusiast eagerly awaiting a refreshing treat to beat the summer heat? Brace yourself for an exciting announcement from Nékter Juice Bar! In celebration of the season, Nékter is all set to treat 200,000 lucky customers to a FREE 16-ounce smoothie of their choice on July 8th. Let's dive deep into the details of this incredible giveaway that's simply too good to miss!
The Celebration Begins:
Mark your calendars for July 8th as Nékter Juice Bar kicks off its 200,000 Smoothie Giveaway extravaganza. The celebration starts bright and early at 8:00 a.m. Eastern / 5:00 a.m. Pacific with a special code reveal on Nékter's Instagram account, @nekterjuicebar. Head over to Instagram and keep your eyes glued to catch this exclusive code that will unlock your free smoothie. It's the perfect opportunity to indulge in a guilt-free taste of Nékter's award-winning flavors.
The Nékter Experience:
Nékter Juice Bar is renowned for its commitment to providing customers with nourishing, fresh, and delicious options. Their menu boasts an extensive selection of tantalizing smoothies, cold-pressed juices, acai bowls, and healthy snacks to cater to a variety of dietary preferences – from vegan to gluten-free and everything in between. Each ingredient used at Nékter is carefully chosen to ensure maximum nutritional value, without compromising on flavor. So, whether you're a health enthusiast or just looking for a sweet pick-me-up, Nékter has something scrumptious in store for you.
Redeem Your Smoothie:
Once you've secured the secret code on Nékter's Instagram, it's time to embark on your smoothie adventure. Download Nékter's award-winning app and enter the code on July 8th to receive a free 16-ounce smoothie of your choice. With a plethora of delectable flavors available, selecting your go-to concoction may be the only challenge. From classic favorites like Tropical Cooler and Pink Flamingo to invigorating Power Greens and refreshing Berry Banana Burst, there's a smoothie to suit every taste bud. Sit back, sip, and savor the goodness!
Promotion Details and Pro Tips:
Remember, this giveaway is available nationwide and exclusive to July 8th only. Because of the limited quantity, it's recommended to act quickly and claim your free smoothie early in the day since availability is on a first-come, first-served basis. As an avid smoothie lover, this is an unprecedented opportunity to experience Nékter's premium quality goodness at no cost. Share the news with friends, family, and colleagues so they too can partake in this summer adventure.
Conclusion:
Don't let this chance to enjoy a free, mouthwatering smoothie from Nékter Juice Bar slip away. Indulge your senses, quench your thirst, and nourish your body with a refreshingly delightful treat. Nékter is ready to make your summer even brighter with their 200,000 Smoothie Giveaway. Remember to check Nékter's Instagram account, @nekterjuicebar, on July 8th at 8:00 a.m. Eastern / 5:00 a.m. Pacific for the special code. Download the Nékter app and redeem your free smoothie to experience the epitome of summer bliss! Cheers to a summer filled with endless possibilities and scrumptious sips!
[Insert link to registration page here]
Claim this great opportunity today.