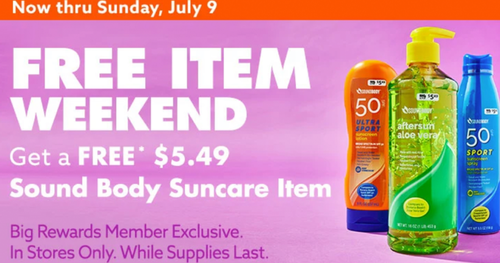 Summer is in full swing, which means it's time to soak up the sun and enjoy the great outdoors. But before you do, don't forget to protect your skin from those harmful rays. And what better way to do that than with a FREE Sound Body Suncare Item from Big Lots!
That's right, this week Big Lots rewards members can score a FREE Sound Body Suncare Item. Whether you're lounging by the pool, hitting the beach, or simply going for a stroll in the park, Sound Body Suncare has got your back, literally. From SPF lotions to sprays, they have a wide range of products that will keep your skin safe and healthy all summer long.
Now, if you're not already a member of Big Lots, don't worry – it's quick and easy to sign up. Just head over to their website and click on the "Join/Sign In" button. By becoming a member, not only will you be able to take advantage of this amazing offer, but you'll also have access to future deals and promotions. Trust me, you don't want to miss out!
But let's talk about why sun protection is so important. We all know that the sun's rays can be harmful, but do you know why? Ultraviolet (UV) radiation from the sun can cause a variety of health issues, including sunburn, premature aging, and even skin cancer. That's why it's crucial to take the necessary precautions and protect your skin.
Sound Body Suncare understands the importance of sun protection, which is why they have developed a line of products that not only provide excellent protection but also feel great on your skin. Their SPF lotions are lightweight and non-greasy, making them perfect for everyday use. And their sprays are convenient and easy to apply, ensuring that every inch of your body is covered.
So, whether you're planning a day at the beach, a picnic in the park, or just running errands around town, make sure to grab your FREE Sound Body Suncare Item from Big Lots. Your skin will thank you!
Remember, this offer is only valid through July 9th, 2023, so don't delay. Sign up to become a Big Lots rewards member today and score your free suncare item. And while you're at it, take a moment to explore all the other amazing deals and discounts that Big Lots has to offer. You never know what surprises await!
Don't let the summer sun take a toll on your skin. Protect yourself with Sound Body Suncare and enjoy all that summer has to offer. Sign up as a Big Lots rewards member and claim your FREE Sound Body Suncare Item today!
JOIN/SIGN IN HERE
Claim this great opportunity today.