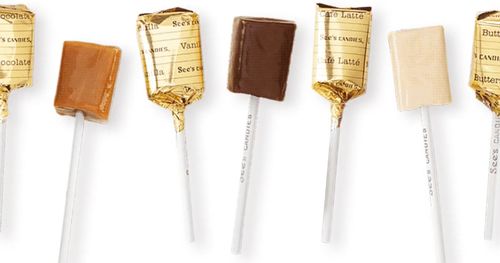 Title: Savor the Sweetness: Indulge in a Free Lollipop at See's Candy Stores!
Introduction:
Who doesn't love a sweet treat, especially when it's free? Mark your calendars for an exciting event happening on July 20th, 2023 – National Lollipop Day! See's Candies, a beloved confectionery known for its delectable creations, is celebrating this special day by offering FREE lollipops at their stores. Get ready to satisfy your sweet tooth and embrace the joy of indulgence!
A Festive Celebration of Lollipops:
Lollipops have been adored by both young and old for generations. From the moment you unwrap one and savor its delightful flavors, a lollipop can transport you back to carefree childhood memories and bring a smile to your face. Celebrating National Lollipop Day with See's Candies will not only evoke nostalgia but also create new memories with loved ones.
The Unmistakable Quality of See's Candies:
See's Candies is renowned for its commitment to excellence, which is evident in the superior quality of its confections. With a legacy spanning nearly a century, this family-owned candy company has mastered the art of crafting irresistible treats that tantalize taste buds and leave a lasting impression. Each lollipop is made with attention to detail, using only the finest ingredients, ensuring every lick is a moment of pure bliss.
A Free Lollipop at Your Fingertips:
The opportunity to experience the delectable taste of a See's Candies lollipop for free is one you don't want to miss. To participate in this generous offer, simply visit the See's Candies store locator on their website. Once you have pinpointed the store nearest to you, mark your calendar and get ready to delight in a complimentary lollipop on July 20th, 2023. Indulging has never been sweeter!
A Taste for Everyone:
See's Candies offers a wide variety of lollipop flavors to accommodate every palate. Whether you prefer the classic sweetness of a butterscotch lollipop that melts in your mouth or the zesty tang of a raspberry lollipop, you'll find the perfect flavor to satisfy your cravings. With See's Candies, there's a lollipop to suit every taste bud, making this free promotion an opportunity for everyone to enjoy their favorite flavors or discover new ones.
Share the Sweetness:
Take this opportunity to spread the joy of National Lollipop Day with your friends, family, and colleagues. Gather your loved ones and make a trip to your nearest See's Candies store for a collective celebration of lollipops. Capture precious moments as you relish the sweet treats and create memories that will be cherished for years to come. Sharing is caring, so encourage others to join in this delightful event and experience the magic of See's Candies lollipops.
Conclusion:
Don't miss out on this mouthwatering offer! On July 20th, 2023, head over to your local See's Candies store to claim your FREE lollipop in celebration of National Lollipop Day. Prepare to be captivated by the exceptional taste and quality that has made See's Candies a beloved brand for generations. Remember, this offer is available for a limited time only, so don't forget to mark your calendar and spread the word to ensure everyone partakes in this delectable celebration. Treat yourself, your loved ones, and your taste buds because happiness is just a lick away!
Claim this great opportunity today.