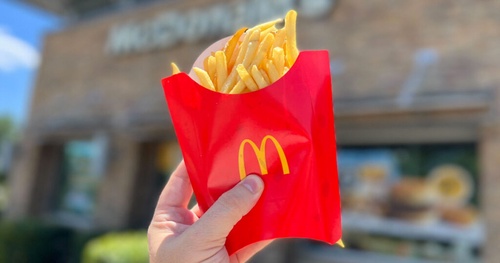 Title: Celebrate National French Fry Day with Free Fries at McDonald's!
Introduction:
Looking for a reason to treat yourself while satisfying your craving for golden and crispy fries? Well, mark your calendars because July 13th, 2023 is National French Fry Day! To commemorate this delicious occasion, McDonald's is generously offering FREE fries of any size, with no purchase required! So, get ready to indulge in a mouth-watering treat at your nearest McDonald's restaurant.
The Perfect Opportunity to Savor the Iconic McDonald's Fries:
For many of us, McDonald's fries hold a special place in our hearts. The flawless combination of a crispy exterior and fluffy interior makes them irresistible and the perfect sidekick to any McDonald's meal. Now, on National French Fry Day, McDonald's is giving everyone the opportunity to enjoy this iconic snack for free!
Satisfy Your Cravings with No Purchase Required:
What could be better than enjoying a serving of piping hot French fries? The fact that you don't need to make any additional purchases to enjoy this offer! McDonald's is making it incredibly easy for you to savor your favorite snack without breaking the bank. So gather your food-loving friends and head to your local McDonald's on July 13th to indulge in this fantastic deal.
How to Claim Your Free Fries:
To access this exciting offer, all you need is the McDonald's app. Simply download the app on your smartphone and on July 13th, the free French fry coupon will be waiting for you. The app is user-friendly and provides numerous options to make your McDonald's experience even more delightful. From customizing your meal to discovering exclusive deals, the McDonald's app is a must-have for all fast-food enthusiasts.
Join the McDonald's Community:
McDonald's is renowned for its commitment to bringing joy and scrumptious delights to people all around the world. By downloading the McDonald's app and taking advantage of this promotion, you become part of a thriving community that celebrates good food and fantastic deals. Don't miss out on being a part of this exciting opportunity to experience the true essence of McDonald's.
Register Now and Mark Your Calendars:
Don't let National French Fry Day go unnoticed! Register now so you're ready to claim your FREE fries on July 13th, 2023. This incredible offer is only valid for one day, so make sure to set a reminder and spread the word among your friends and family. It's an extraordinary opportunity to indulge in the best fries around and enhance your McDonald's experience.
Conclusion:
National French Fry Day is a celebration that fry lovers eagerly anticipate each year. McDonald's is taking it a step further by delighting its customers with a free serving of their famous French fries. Download the McDonald's app to unlock this amazing offer and satisfy your fry cravings on July 13th. Don't miss the chance to join the McDonald's community and indulge in a culinary delight that will leave you begging for more. Register today and get ready to enjoy your FREE fries from McDonald's!
Claim this great opportunity today.