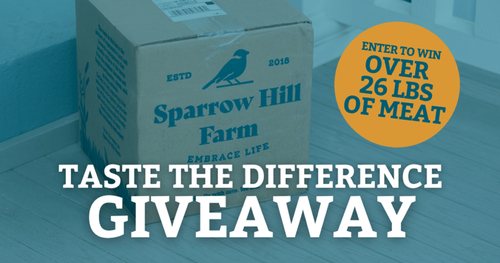 Title: Savor the Superiority of Farm-Fresh Meat at our Taste the Difference Farm Meat Giveaway!
Are you tired of settling for mediocre meat that lacks flavor and the assurance of quality? Look no further, as we have an incredible opportunity lined up just for you – the Taste the Difference Farm Meat Giveaway! Get ready to elevate your culinary experience by indulging in the delectable flavors of premium, farm-fresh meat.
At The Freebie Guy®, we understand the importance of enjoying high-quality ingredients in our meals. That's why we partnered with renowned farmers who share our passion for exceptional taste and ethical farming practices. With this giveaway, we aim to bring the finest ingredients straight from the farm to your table, ensuring an unforgettable dining experience!
Why Should You Participate in the Taste the Difference Farm Meat Giveaway?
1. Unmatched Quality: Say goodbye to subpar meats and unlock a whole new level of flavor! Our partner farms pride themselves on raising animals in a stress-free environment, providing them with optimal care, and feeding them nourishing feed. By participating in this giveaway, you'll have the chance to taste the difference that these ethical farming practices can make.
2. Superior Taste: There's no denying that the way an animal is raised significantly impacts the taste of its meat. When you experience the difference that farm-fresh, sustainably raised meat offers, you'll never go back to ordinary options. Prepared with care, these cuts are rich, juicy, and bursting with natural flavors that will leave your taste buds yearning for more.
3. Variety and Selection: We understand that everyone has different preferences when it comes to meat. That's why this giveaway encompasses a wide range of options, including premium cuts of beef, succulent pork, tender chicken, and even mouthwatering lamb. Whether you're a steak enthusiast, a pork aficionado, or a lover of all things poultry, we've got you covered!
4. Supporting Ethical Farming: By participating in the Taste the Difference Farm Meat Giveaway, you not only delight your palate but also contribute to a more sustainable food system. Our partner farms prioritize animal welfare and sustainable farming practices, ensuring that their operations have minimal impact on the environment. Join us in supporting these efforts!
5. Exclusive Access: This giveaway is your passport to enjoy farm-fresh meat that is not easily found in your local supermarket. These carefully selected cuts are usually reserved for discerning chefs and culinary connoisseurs. By participating, you gain exclusive access to these extraordinary products delivered right to your doorstep.
Register Now for the Taste the Difference Farm Meat Giveaway!
Don't miss out on this incredible opportunity to transform your culinary experiences with the finest farm-fresh meat. Register now and secure your chance to win this tantalizing prize pack. Elevate your meals, impress your friends and family, and savor the mouthwatering taste of superior-quality meat.
To register for the Taste the Difference Farm Meat Giveaway, visit our website or head over to our social media channels. Hurry, as this giveaway has limited spots available!
Indulge in the extraordinary, embrace the exceptional, and taste the difference with farm-fresh meat. Join us today!
Claim this great opportunity today.