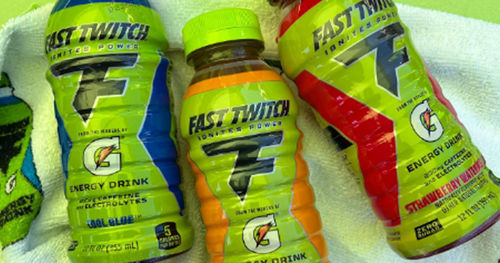 The Fast Twitch Friday Giveaway – Enter for a Chance to Win Exciting Prizes!
Are you ready for an adrenaline rush? How about a chance to win amazing prizes? Look no further because we have the perfect opportunity for you! Introducing the Fast Twitch Friday Giveaway, where you can enter for a chance to win big!
Here's what's up for grabs: (100) lucky winners will receive a 12-Pack of Fast Twitch Energy and one Fast Twitch Sport Towel. Imagine having a whole case of Fast Twitch Energy, the ultimate fuel to power up your day, along with a stylish sport towel perfect for your workouts or outdoor adventures. It's the perfect package for all your energy needs!
Entering the giveaway is as easy as can be. We're keeping it simple with a one-time entry. No need to worry about keeping track of multiple submissions or complicated entry forms. Just enter once and you're in the running to win these fantastic prizes.
Now, you might be wondering when this exciting opportunity ends. We have good news! The Fast Twitch Friday Giveaway is here to brighten your day until July 10th, 2023 (11:59 pm). That means you still have plenty of time to participate and increase your chances of winning!
Fast Twitch Energy is known for its powerful and efficient boost of energy. Whether you need an extra kick for your workouts, a pick-me-up during a long day at work, or a burst of vitality for your outdoor adventures, Fast Twitch Energy has got your back. With its unique formula, Fast Twitch Energy provides a quick and sustained release of energy, keeping you powered up when you need it the most.
And let's not forget about the Fast Twitch Sport Towel! Made from high-quality materials, this towel is designed to absorb sweat, keeping you dry and comfortable during your workouts. Its compact and lightweight design makes it perfect for bringing along to the gym, yoga class, or any outdoor activity. Not only will you be energized, but you'll also look and feel great while doing it!
So, what are you waiting for? Don't miss out on this incredible opportunity to win a 12-Pack of Fast Twitch Energy and a Fast Twitch Sport Towel. Enter the Fast Twitch Friday Giveaway today for a chance to up your energy game and take home these fabulous prizes!
To enter, simply follow the link provided below. It's quick, easy, and will only take a few moments of your time. Don't let this chance slip away! Click the link, fill in your details, and you're on your way to becoming one of the lucky winners of the Fast Twitch Friday Giveaway!
Register now for the Fast Twitch Friday Giveaway and fuel your adventures with Fast Twitch Energy. Don't wait – the opportunity awaits! Enter today and get ready to experience the boost you've been craving. Good luck!
[INSERT LINK HERE]
Claim this great opportunity today.