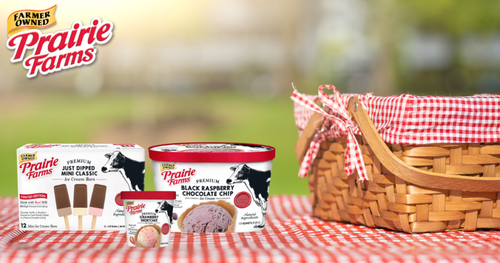 Who doesn't love ice cream? It's that time of year again when the sun is shining, and the temperatures are rising. And to make this summer even sweeter, Prairie Farms is celebrating July as Ice Cream Month with an amazing sweepstakes! Get ready for a chance to win some mouth-watering prizes that will satisfy your sweet tooth.
Prairie Farms, a premium dairy company, has been delighting ice cream lovers for years with their delicious and creamy creations. From classic flavors like vanilla and chocolate to innovative combinations like cookie dough and strawberry cheesecake, Prairie Farms has something for everyone. And now, they want to share the joy of their ice cream with you through their "July Ice Cream Month" Sweepstakes.
So, what can you win in this scrumptious sweepstakes? Well, hold onto your cone because the prizes will definitely make you say "yum"! One lucky winner will receive a year's supply of Prairie Farms ice cream. Just imagine having a freezer stocked with your favorite flavors, ready to indulge whenever a craving strikes. Say goodbye to the days of running to the store for a pint every time you want to treat yourself. With an entire year's supply, you'll have the freedom to enjoy Prairie Farms' delectable ice cream whenever you please!
But that's not all. Prairie Farms also has some exciting bonus prizes up for grabs. Ten additional winners will receive a deluxe ice cream party pack, complete with a variety of ice cream flavors, toppings, and all the essentials to create the ultimate ice cream feast. Whether you prefer sprinkles, hot fudge, or fresh fruits, this party pack will turn any ordinary day into a memorable ice cream extravaganza. So gather your friends and family, and get ready to savor the sweetness of Prairie Farms ice cream together!
Now, you might be wondering how you can enter this drool-worthy sweepstakes. It's simple! Just head over to the Prairie Farms website and fill out the registration form. Make sure to provide all the required information accurately, as this will be used to contact the winners. Once you've submitted your entry, keep your fingers crossed and start dreaming about all those ice cream-filled days ahead.
But don't wait too long! This opportunity to win a year's supply of Prairie Farms ice cream and the chance to host the ultimate ice cream party won't last forever. So mark your calendars, set your reminders, and make sure to register before it's too late. Trust us; you don't want to miss out on this "melt-in-your-mouth" opportunity.
So, what are you waiting for? Get ready to indulge in a summer of sweetness and make every day feel like a celebration. Don't pass up the chance to win amazing ice cream prizes from Prairie Farms. Register now and let the ice cream adventures begin!
[Registration closes soon, so visit the Prairie Farms website and enter now.]
Claim this great opportunity today.