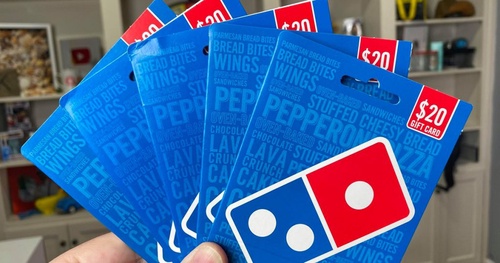 Title: Dominos Quikly Giveaway – Head's Up!
Hey there pizza lovers! We have an exciting update for you regarding the highly anticipated Dominos Quikly Giveaway! Get ready to set your alarms for 1:00 pm EST because the text links will be rolling in, and you won't want to miss out on your chance to win a Domino's gift card. That's right, 5,003 lucky winners will score a mouthwatering prize!
If you aren't familiar with Quikly, let us fill you in. Quikly is a fun and fast-paced promotional platform that creates a sense of urgency and excitement. It offers fantastic rewards to participants who are quick off the mark. And what could be more satisfying than scoring free pizza from Domino's?
Before we dive into the giveaway details, it's important to note that you must have signed up previously to participate in this incredible opportunity. So, if you haven't already, make sure you've registered to increase your chances of winning big!
Now, let's talk about the delectable rewards that could be heading your way. Domino's is generously giving away 5,003 gift cards to lucky participants. Imagine sinking your teeth into a cheesy slice or indulging in crispy chicken wings without spending a dime. Pure pizza bliss, right?
This giveaway is all about being quick, so here's what you should do to maximize your chances of winning:
1. Set an Alarm: Mark your calendars and set a reminder for 1:00 pm EST when the Quikly text links will be delivered right to your phone. You don't want to miss this opportunity, so make sure you're ready to participate!
2. Spread the Word: Share this incredible giveaway with your friends and family. The more people who sign up, the more chances there are for you and your loved ones to score a Domino's gift card. Who doesn't want free pizza?
3. Keep Your Phone Close: Once you receive the Quikly text link, be ready to click and claim your prize. Remember, time is of the essence, so don't delay!
Dominos Quikly Giveaway is an amazing opportunity for pizza enthusiasts to enjoy their favorite dishes without spending a penny. With 5,003 gift cards up for grabs, the odds are certainly in your favor!
So, whether you enjoy a classic pepperoni pizza, savor every bite of a loaded meat feast, or prefer to explore innovative flavor combinations, Dominos has got you covered. Don't miss your chance to win by missing the Quikly text link – set an alarm and keep your phone nearby!
Pizza lovers, rejoice! This is your opportunity to satisfy your cravings without dipping into your wallet. Remember, you must have signed up previously to participate, so make sure you're registered and ready to go.
Get ready for the Dominos Quikly Giveaway to kick off at 1:00 pm EST. Thousands of Domino's gift cards are waiting to be claimed, and you could be one of the lucky winners. Don't let this chance pass you by – go grab that delicious free pizza now!
Claim this great opportunity today.