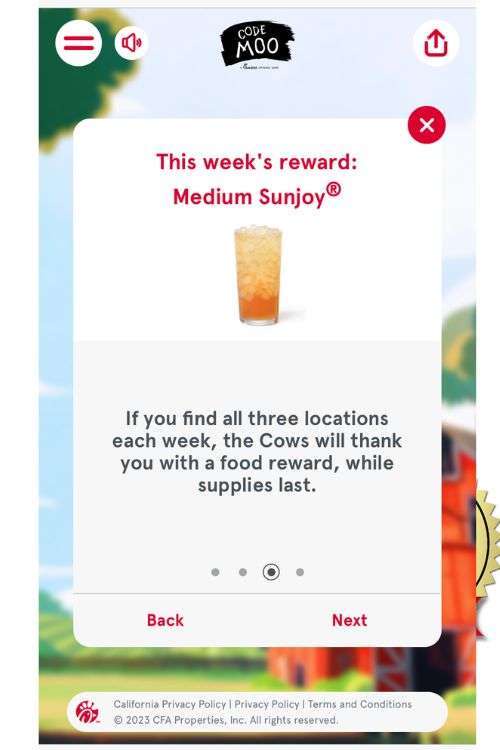 Title: Savor the Delicious Taste of Chic-Fil-A: Register Today for a Chance to Win!
Introduction:
Are you a lover of tasty, mouthwatering chicken? If so, we have exciting news for you! Chic-Fil-A is hosting an incredible promotion called Code Moo Instant Win & Sweepstakes, where you have the chance to win FREE Chic-Fil-A food and even a year of free meals! Plus, one lucky grand prize winner will receive an all-expenses-paid trip to Houston, Texas. Sounds tempting, right? Keep reading to find out how you can participate and be on your way to enjoying delectable Chic-Fil-A goodness!
Instant Win Game: Instant Gratification!
Imagine the thrill of instantly winning free Chic-Fil-A food! With the Code Moo instant win game, you could be one of 2,500,000 lucky winners each week. That's right, every week leading up to Tuesday, August 1st, Chic-Fil-A will be giving away a massive 2,500,000 food rewards to the winners of the instant win game. Just think of the endless possibilities of enjoying those scrumptious chicken sandwiches, crispy waffle fries, and refreshing lemonade!
But the excitement doesn't end there…
Grand Prize Sweepstakes: A Trip Worth Savoring
In addition to the instant win game, Chic-Fil-A is also offering a chance to win a grand prize that will take your love for their food to new heights. By participating in the sweepstakes, you could be selected as the lucky winner to embark on an unforgettable trip to Houston, Texas. Picture yourself indulging in the flavors of Chic-Fil-A while exploring the vibrant city known for its culture, amazing culinary scene, and warm Texan hospitality. It's an experience that food enthusiasts and travel aficionados can't afford to miss!
Why Wait? Register Now!
Don't miss out on this incredible opportunity to win free Chic-Fil-A food and an amazing trip to Houston! Registering for this promotion is simple and takes only a few moments of your time. Here's how you can participate:
1. Visit the official Code Moo Instant Win & Sweepstakes website.
2. Fill in your personal information, including your name, email address, and contact number.
3. Keep an eye out for the confirmation email that you will receive shortly after registering.
4. Check back frequently to see if you're one of the instant winners!
5. And remember, you're automatically entered for a chance to win the grand prize!
Conclusion:
Your love for Chic-Fil-A can now be rewarded with free food and an unforgettable trip! Participating in the Code Moo Instant Win & Sweepstakes is an opportunity that you simply can't pass up. Whether you're a long-time fan or someone looking to experience the mouthwatering delights of Chic-Fil-A for the first time, this promotion has something delicious in store for you.
So, what are you waiting for? Register today for your chance to win free Chic-Fil-A food and an epic trip to Houston, Texas! Get ready to savor the flavors that have made Chic-Fil-A a nationwide sensation. Don't delay, every bite is an adventure waiting to happen!
Claim this great opportunity today.