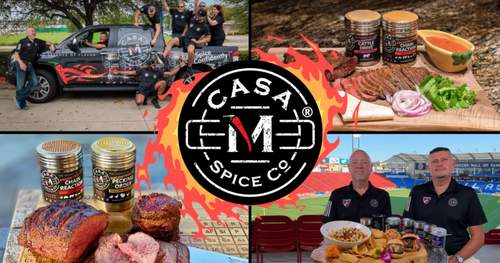 Apply to Host a Casa M Spice Labor Day Grilling Party with Tryazon
Summer is in full swing, and what better way to celebrate than with a sizzling Labor Day grilling party? If you're a food enthusiast and love gathering your friends and family for a good cookout, we have an exciting opportunity for you. Get ready to ignite your taste buds and embark on a flavor adventure with Casa M Spice Co® and Tryazon!
We are looking for 50 passionate foodies to host a Casa M Spice Labor Day Grilling Party with Tryazon. This exclusive offer allows you to be one of the lucky party hosts, bringing the incredible flavors of Casa M Spice Co® to your own backyard. Imagine the delicious aroma wafting through the air as you create mouthwatering dishes with the finest spices.
As a host, you will receive a party pack valued at $165+. This exceptional package includes the Casa M Spice Co® Gift Set – a treasure trove of flavor that will elevate your culinary creations to new heights. Inside this gift set, you'll find an array of perfectly blended spices that will make your Labor Day grilling party an unforgettable experience for you and your guests.
The Casa M Spice Co® Gift Set includes the following:
– Signature Spices: Experience the classic blend of spices that started it all. These meticulously crafted seasonings will add depth and complexity to your grilled meats and vegetables.
– Pitmaster Pack: Elevate your grilling game with this collection of spices designed for pitmasters. From low and slow BBQ to intense, fiery flavors, this pack has it all.
– Fiery Habanero Seasoning: For those who dare to turn up the heat, this fiery habanero seasoning will add a kick to your dishes without overpowering the flavors.
– Sweet Heat Seasoning: Strike the perfect balance between sweet and spicy with this captivating seasoning. It adds a touch of sweetness that complements any grilled dish.
With these exceptional spices by your side, you will be able to create a Labor Day feast that will have your guests begging for seconds. Casa M Spice Co® has perfected the art of blending spices, ensuring that each bite is bursting with flavor.
To apply for this incredible opportunity, simply visit [the website] and complete the registration form. Share your enthusiasm for grilling and explain why you would be the perfect host for a Casa M Spice Labor Day Grilling Party. We are looking for individuals who are passionate about food, love entertaining, and are eager to share their grilling skills with others.
Don't miss out on the chance to become one of the lucky hosts! Application registration ends soon, so make sure to submit your entry before August 9th, 2023. Whether you're an experienced griller or just starting on your culinary journey, this is a fantastic opportunity to showcase your skills and create lasting memories with friends and family.
So, what are you waiting for? Apply today, and let Casa M Spice Co® and Tryazon help you host the ultimate Labor Day Grilling Party. Get ready to savor the flavors, enjoy the company of loved ones, and create an unforgettable experience that will leave everyone craving more. Register now and set the stage for an extraordinary grilling adventure!
Claim this great opportunity today.