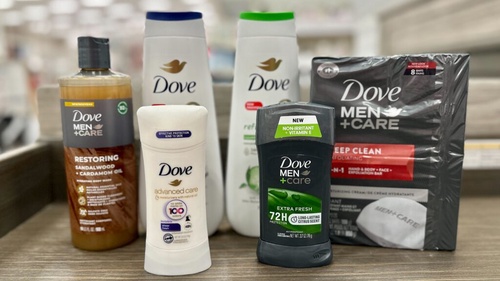 Title: Get a Boost of Savings with Free Dove Coupons from Unilever!
Are you ready to pamper yourself with some luxurious self-care products without breaking the bank? Look no further—Unilever is here to make it happen! We are thrilled to announce that you can now sign up for a fantastic promotion and receive $5 in FREE coupons for your favorite Dove products. Yes, you heard it right—FREE coupons!
Unlock the potential of premium self-care with Dove, a brand that has always prioritized delivering quality products that nourish and care for your skin, hair, and body. Indulge in a wide range of Dove offerings, from their iconic beauty bars and shower essentials to their advanced hair care solutions.
The best part? Securing your FREE Dove coupons is as easy as one, two, three! Simply visit the Unilever website, where you'll find a hassle-free signup process that won't take more than a few moments of your time. Get ready to experience the joy of savings while elevating your beauty routine!
Discover why millions of satisfied customers trust Dove and experience the transformative power of their products firsthand. By combining scientific innovation with natural ingredients, Dove crafts formulas that nourish, repair, and enhance your natural beauty. Whether you're looking for a moisturizing body wash, a gentle shampoo, or a deodorant that keeps you fresh and confident throughout the day, Dove has got you covered.
Unveil soft, silky, and radiant skin with Dove's iconic beauty bars that replenish and maintain your skin's natural moisture. These bars not only cleanse but also nourish, leaving your skin feeling refreshed, smooth, and beautifully moisturized.
Dove's hair care range proudly addresses the unique needs of different hair types, providing tailored solutions to help you achieve stunning and healthy-looking locks. From shampoos and conditioners that nourish damaged hair to serums and treatments that revive dullness, Dove's hair care line offers all the essentials for a salon-like experience right in your own bathroom.
Unilever understands that self-care is an essential aspect of your overall well-being, and that's why they want to make it accessible to everyone. By offering these FREE Dove coupons, they're giving you an opportunity to indulge in self-pampering without compromising your budget.
So, what are you waiting for? Don't miss out on this fantastic promotion! Sign up now on the Unilever website and claim your $5 in FREE coupons for Dove products. Experience the luxury, quality, and affordability that Dove delivers and show yourself some well-deserved love and care.
Remember, this offer won't last forever, so seize the opportunity to discover the magic of Dove's products firsthand. Transform your beauty routine and unlock a world of self-care that doesn't cost a fortune.
Opportunities like these are rare, so head over to Unilever right away and complete the easy signup process. Take the first step towards pampering yourself with Dove's exceptional range of products at a fraction of their normal cost.
Sign up today and say hello to the ultimate self-care experience with Dove. Your skin and hair will thank you, and your wallet will be delighted! Don't wait—register now and claim your $5 in FREE Dove coupons before this amazing offer expires!
SIGN UP HERE
Claim this great opportunity today.