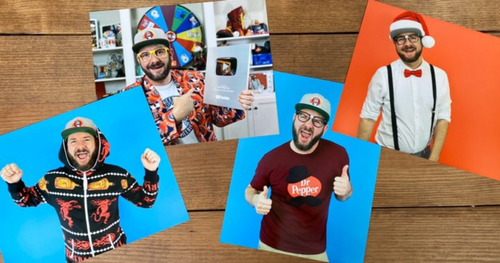 Title: Snag Two Free 5X7 Prints at Walgreens for Unforgettable Memories!
Introduction:
Capturing precious moments has never been easier or more affordable than it is right now! Walgreens is currently offering an incredible deal that you won't want to miss out on. With the code 5X7FREE, you can secure two FREE 5×7 photos from Walgreens. So, let's dive into the details and find out how you can take advantage of this limited-time promotion.
The Perfect Way to Preserve Memories:
Photos have the incredible power to transport us back to a specific moment in time, evoking a wave of emotions and bringing a smile to our faces. Whether it's a cherished family gathering, that incredible vacation, or a heartwarming candid shot, these precious memories deserve to be immortalized. Walgreens understands this, which is why they are offering two FREE 5X7 prints!
How to Redeem the Promotion:
Walgreens has made it incredibly easy to redeem this amazing offer. Simply use the code 5X7FREE at checkout to claim your two FREE 5X7 prints. To make this deal even sweeter, opt for FREE in-store pickup and save on shipping costs too! It's a win-win situation that ensures you can enjoy your photos while keeping your budget intact.
Using the Walgreens Website:
Head over to the Walgreens website and browse their extensive collection of photo prints. Whether you want glossy or matte finish, you'll find the perfect fit for your stunning photos. Select the two 5X7 prints and add them to your cart. Once you're ready to check out, enter the code 5X7FREE and watch the discount show up automatically. Choose the convenient option of FREE in-store pickup and collect your prints at your nearest Walgreens location. It's that simple!
Preserve and Share Your Memories:
There's something incredibly special about holding a physical copy of a beloved photo. With these two FREE 5X7 prints, you can frame them, create a beautiful collage, or gift them to loved ones. Reliving your favorite moments will become a breeze with these treasures displayed in your home or office. Additionally, don't forget to share your excitement with family and friends so they can also take advantage of this remarkable offer!
Conclusion:
The opportunity to secure two FREE 5X7 prints from Walgreens is truly a game-changer. Take a moment to reflect on those cherished memories that deserve a place in your heart and on your walls. Head over to Walgreens' website and enter the code 5X7FREE at checkout to avail yourself of this exciting promotion. Remember to choose FREE in-store pickup to keep it completely free! This offer won't last forever, so seize the chance now and create lasting memories at no cost to you!
Register now and grab your free prints before it's too late!
Claim this great opportunity today.