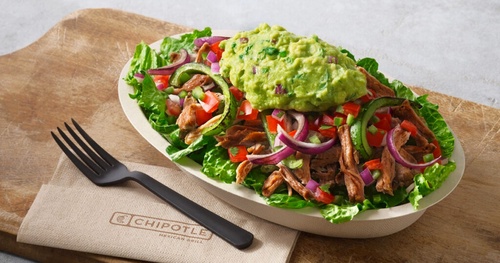 Bowls for Goals is BACK at Chipotle! Score a FREE Chipotle Entree!
Calling all Chipotle lovers! We have some incredible news that will surely make your taste buds tingle with excitement. Bowls for Goals is back at Chipotle, and this time, you have the chance to score a free entree from your favorite Mexican grill during the promotion! Are you ready for a winning opportunity? Let's dive right into the details.
For those unfamiliar with Bowls for Goals, it is a mouthwatering collaboration between Chipotle and the U.S. Women's National Soccer Team (USWNT) Twitter account (@USWNT). Picture this – every time the USWNT scores a tying, go-ahead, or lead-extending goal during the group stage of the international tournament, Chipotle and the USWNT will drop a jaw-dropping 2,500 FREE Chipotle entrees on lucky fans! Yes, you heard it right – FREE Chipotle!
The ultimate goal of this incredible promotion is simple – to celebrate the spirit of competition and support the hard work and dedication of our amazing US Women's National Soccer Team. As fans, we get to amplify the excitement and cheer for their success by indulging in the mouthwatering goodness that Chipotle has to offer. It's a win-win situation!
Imagine treating yourself to a mouthwatering Chipotle bowl or burrito filled with sizzling barbacoa, tender grilled chicken, or even the delectable sofritas. And the best part? You won't have to pay a single penny for it. Winning tastes even better when it's free!
But, you may be wondering how you can get your hands on this incredible opportunity. It's simple – all you have to do is register to participate in the promotion. Make sure you keep a close eye on Chipotle's social media channels and the US Women's National Soccer Team Twitter account (@USWNT) for further instructions and updates. Stay tuned to be part of the exhilarating journey!
Don't miss out on this chance to savor the delectable flavors of Chipotle without breaking your budget. As a marketing professional, I know that promotions like Bowls for Goals can add an extra layer of excitement to our everyday lives. So, gather your friends and family, mark your calendars, and register today to be a part of this epic celebration!
Chipotle has always been committed to serving delicious, high-quality food made with real ingredients. And now, they're adding a sprinkle of team spirit and soccer excitement to make your dining experience even more memorable. So, what are you waiting for? Get ready to support our phenomenal USWNT and score a FREE Chipotle entree while you're at it!
Remember, life is all about embracing the excitement and celebrating unique moments. This promotion is the perfect blend of flavors, competition, and appreciation for our favorite soccer team. Don't let this opportunity pass you by. Take a step closer to a winning meal and register today!
Score a FREE Chipotle entree, stand united with the US Women's National Soccer Team, and enjoy the flavors of victory. Register now and let the countdown to culinary bliss begin!
Claim this great opportunity today.