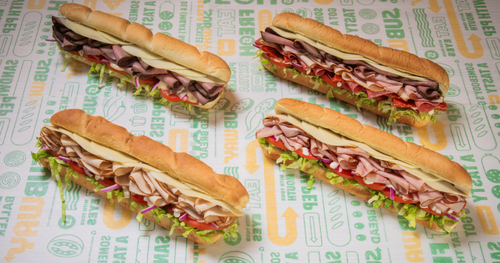 Title: Score Big with Fooji | Subway Million Sandwich Giveaway!
Hey foodies! If you're a fan of Subway sandwiches, then you're in for a treat! Get ready to sink your teeth into the Fooji | Subway Million Sandwich Giveaway – a promotion that will satisfy your cravings and potentially make you a winner!
In partnership with Fooji, Subway is giving away a whopping one million sandwiches to lucky participants. Yes, you read that right – one million sandwiches! We're talking about Subway's legendary subs that are packed with fresh, flavorful ingredients, made just the way you like it.
Now, you may be wondering how you can get in on this mouth-watering opportunity. Well, it's simple! All you have to do is register for the promotion, and you'll be in the running to enjoy Subway's delicious sandwiches without spending a dime. It's a win-win situation!
Imagine sinking your teeth into a mouthwatering Steak and Cheese, savoring the zesty flavors of a Spicy Italian, or indulging in Subway's new and innovative plant-based options like the Beyond Meatball Marinara. Your taste buds are in for a treat with every bite!
But wait, there's more! Not only can you win Subway sandwiches, but there are also fantastic bonus prizes up for grabs. From exclusive swag and Subway gift cards to unique Subway experiences, this promotion has something for everyone. It's a golden opportunity to level up your lunch game while enjoying exciting surprise rewards.
Participating is easy. Just follow the prompts to register, and you'll be one step closer to potentially being one of the lucky winners. Imagine basking in the glory of being amongst the many individuals who get to enjoy Subway sandwiches on the house. It's like hitting the jackpot, but with delectable subs instead of cash!
And remember, Subway offers a wide variety of sandwich options, meaning there's something for every taste preference and dietary requirement. Whether you're a meat lover, vegetarian, or vegan, Subway's got you covered with their diverse menu. So, no matter your flavor craving, you can indulge guilt-free.
If you're still on the fence about participating in this amazing giveaway, think about the joy and excitement that a free Subway sandwich can bring. Whether you enjoy it at lunch on a workday, share it with loved ones during a picnic, or savor it as a midnight snack, every bite will be a reminder of your lucky win – a savory reward that simply can't be beaten!
So, what are you waiting for? Register now for the Fooji | Subway Million Sandwich Giveaway and increase your chances of being one of the winners. Don't miss this once-in-a-lifetime opportunity to score big with Subway!
Remember, the best things in life are free – especially when they come in the form of a Subway sandwich. Register now, and keep your fingers crossed for a tasty win. Hurry, time is limited, and you don't want to let this scrumptious chance pass you by!
Register today and let your taste buds lead you towards a delicious victory. Good luck, and may the sandwich gods be with you!
Claim this great opportunity today.