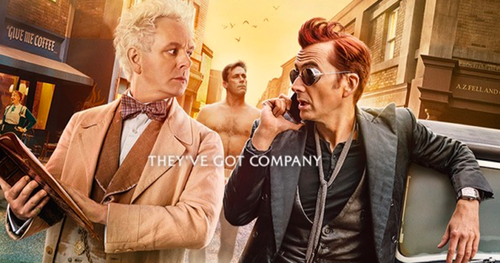 Free Early Screenings to see Good Omens 2 in Theaters
Calling all Amazon Prime members! If you're a fan of the popular series Good Omens, we have some exciting news for you. As a Prime member, you have the exclusive opportunity to attend free early screenings of Good Omens 2 in theaters. Get ready to dive back into the magical world of Aziraphale and Crowley as you watch the first two episodes before they air on any other platform.
The Good Omens series, based on the beloved novel by Terry Pratchett and Neil Gaiman, has captivated audiences with its unique blend of humor, fantasy, and thought-provoking storytelling. Now, you have the chance to experience the eagerly awaited second season on the big screen, surrounded by fellow fans who appreciate the brilliant writing and incredible performances.
Imagine being among the first to witness the continuation of the epic battle between good and evil. With Good Omens 2, you'll embark on a thrilling journey filled with twists, turns, and unexpected alliances. Revel in the wit and charm of Aziraphale, the unlikely angel, and Crowley, the demon with a heart, as they navigate through apocalyptic scenarios and try to prevent the ultimate destruction.
Attending a movie screening is not merely about the captivating storyline; it's also an unforgettable experience. Picture yourself sitting in a comfortable theater seat, the lights dimming, and excitement building among the audience. As the scenes unfold, you'll be completely absorbed in the world of Good Omens, transported to a realm where heaven and hell collide in the most entertaining way possible.
To secure your spot for this extraordinary event, keep an eye out on July 19th, 2023, when tickets become available. As anticipation builds, make sure to frequently check back to reserve your tickets promptly. Given the high demand for such exclusive events, it's essential to act swiftly to claim your invitation to the early screenings.
Remember, this opportunity is exclusively for Amazon Prime members. If you're not already a member, this is the perfect reason to join. Alongside the chance to attend the Good Omens 2 screenings, being a Prime member offers a multitude of benefits, including free two-day shipping on eligible items, access to a vast library of movies and TV shows, exclusive discounts, and much more. Sign up for Amazon Prime today to unlock an array of extraordinary perks.
Don't miss out on this incredible chance to see Good Omens 2 before anyone else. Be part of an exclusive group of fans who get to witness the epic battles, hilarious banter, and remarkable moments firsthand. Remember, mark your calendars for July 19th, 2023, and be ready to secure your tickets as soon as they become available.
Visit our website and register to receive updates and notifications about the Good Omens 2 early screenings. Embark on a cinematic adventure like no other, and let the magic of Good Omens sweep you off your feet. We can't wait to see you there!
Claim this great opportunity today.