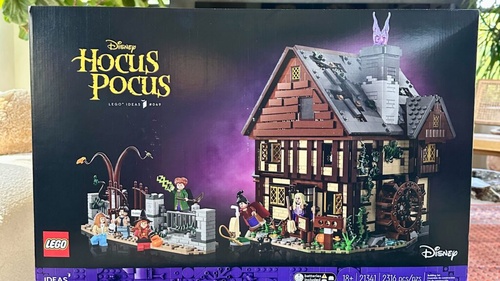 Title: Win It Wednesday – Hocus Pocus LEGO Set Giveaway!
Introduction:
Are you a fan of the legendary movie "Hocus Pocus" and LEGO sets? Well, hold on to your broomsticks because I have an exciting announcement for you! Tonight, on my Instagram page, I am hosting a wonderful giveaway where you can stand a chance to win a Hocus Pocus LEGO set worth over $200! So, gather your friends, unleash your creativity, and dive into the magical world of LEGO. Keep reading to find out how you can enter this enchanting contest!
Setting the Stage:
For any LEGO enthusiast or Hocus Pocus lover, this giveaway is a dream come true. Can you imagine owning a LEGO set that brings to life the beloved Sanderson sisters and their captivating adventures right in your own home? Well, now you have the opportunity to do just that! This Hocus Pocus LEGO set is packed with extraordinary details and intricate designs that will transport you to Salem, Massachusetts, where the witches cast their spellbinding charms.
Why Enter?
Besides the sheer joy of possessing such a coveted LEGO set, there are many reasons to participate in this giveaway. Firstly, the Hocus Pocus LEGO set will undoubtedly be a cherished addition to any LEGO collection and serve as a conversation piece for years to come. Secondly, winning this set would be a testament to your passion for both LEGO and Hocus Pocus.
Furthermore, entering this giveaway is completely free, making it a no-brainer decision to try your luck. Who knows, tonight might be your lucky night! So, why not take a leap of faith and embark on this enchanting opportunity?
How to Enter:
To enter this extraordinary Hocus Pocus LEGO set giveaway, all you need to do is visit my Instagram page and follow these simple steps:
1. Like the giveaway post to show your excitement and support.
2. Comment on the post, telling us your favorite moment from the movie Hocus Pocus.
3. Tag at least two friends who could use a sprinkle of magic in their lives.
Remember, the more genuine shoutouts and engagement, the more enchanting your chances become!
Winner Selection:
The suspense is building! Tonight, at approximately 11 pm (est), I will select one lucky winner from among all the exciting entries. Rest assured, every participant will have an equal chance at winning this incredible Hocus Pocus LEGO set. So, make sure you set a reminder and keep your fingers crossed until the magical moment arrives!
Conclusion:
Now that you know all the thrilling details of this phenomenal giveaway, it's time to head over to my Instagram page and enter for a chance to win the Hocus Pocus LEGO set valued at over $200! Don't miss out on this extraordinary opportunity to bring the enchantment of the Sanderson sisters and their mystical world into your home.
Imagine the excitement of piecing together this iconic movie scene by scene, reimagining the epic moments, and creating your own magical adventures. So, what are you waiting for? Set off on this whimsical journey and create memories that will last a lifetime.
Remember, the entry deadline is tonight at 11 pm (est). Visit my Instagram page, like the post, comment with your favorite Hocus Pocus moment, and tag two friends to enter. Good luck, and may the magic be with you!
ENTER HERE!
Claim this great opportunity today.