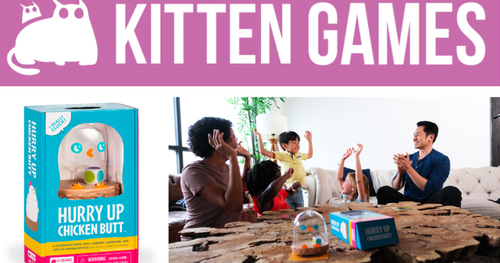 Title: Host a Memorable Game Night with Exploding Kittens for Kids!
Intro:
Are you ready to ignite some laughter and excitement into your family game nights? Look no further! We have an exciting opportunity for you to host an Exploding Kittens for Kids Game Night Party with Tryazon. Imagine the joy on your children's faces as they dive into a world of whimsical gameplay. Keep reading to find out how you can be one of the lucky hosts!
Why Exploding Kittens for Kids?
Exploding Kittens for Kids is a wildly fun and strategic card game that captures the imagination of children of all ages. It's a hilarious twist on the classic Russian roulette concept, where players aim to avoid drawing the dreaded exploding kitten card. With its simple rules and delightful artwork, it's a perfect choice for a lively game night that your kids won't want to end!
What's in it for you?
If chosen to host an Exploding Kittens for Kids Game Night Party, you will receive an exclusive party pack valued at over $35! This pack includes some amazing goodies that will enhance your game night experience:
1. Hurry Up Chicken Butt game: This hilarious game takes quick thinking and fast reflexes to complete various chicken-themed challenges. Get ready for some uproarious laughs and friendly competition!
2. The Best Worst Jokes Ever game: Laughter is contagious, and this game ensures an evening filled with belly-shaking giggles. Test your joke-telling skills and improve your comedic timing – it's the perfect addition to any family gathering!
3. Exploding Kittens for Kids: Of course, the highlight of the party pack is the Exploding Kittens for Kids card game itself. With its adorable illustrations and unexpected twists, it guarantees an exciting and memorable game night for everyone involved.
How to Apply:
So, how can you become one of the 100 people chosen to host an Exploding Kittens for Kids Game Night Party? It's simple! Head over to Tryazon's website and fill out the application form by August 2nd, 2023. Share why you and your family would be the perfect hosts for this fantastic event. Let your enthusiasm shine through and show them why they shouldn't miss the opportunity to bring the magic of Exploding Kittens for Kids to your home!
Conclusion:
Don't let your family game nights become predictable and dull. Inject the spirit of fun and excitement by hosting an Exploding Kittens for Kids Game Night Party with Tryazon. Gather your loved ones, unleash a flurry of laughter, and create unforgettable memories together. The chance to be selected as a host is limited, so don't delay – apply now for a gaming adventure like no other!
Remember, opportunities like this don't come around often, so take a leap and register to become a host today. Let the world of Exploding Kittens for Kids transport you and your family to a world of endless fun and laughter!
Claim this great opportunity today.