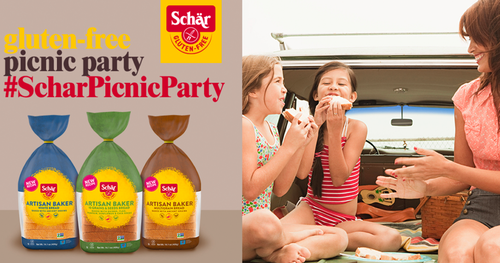 Title: Experience a Delicious and Nourishing Schär Gluten-Free Picnic Party with Ripple Street
Introduction:
Are you passionate about hosting unforgettable gatherings and offering delightful experiences to your friends and family? If so, we have an exciting opportunity for you! Ripple Street, in collaboration with Schär, is searching for 250 enthusiastic individuals to host a Schär Gluten-Free Picnic Party Chatterbox Party. Get ready to savor the goodness of gluten-free snacks, make lasting memories, and provide valuable feedback to make future events even better. Don't miss out – apply now to become part of this exclusive picnic party!
A Taste of Schär:
Schär is a leading brand dedicated to providing delicious gluten-free alternatives for individuals with celiac disease or gluten sensitivities. With their extensive range of products, Schär ensures that everyone can enjoy meals and snacks without compromising on taste, quality, or their overall well-being.
Host Your Own Picnic Party:
By applying to host a Schär Gluten-Free Picnic Party, you'll have the chance to showcase your hosting skills while treating your guests to an amazing event. Imagine a sun-kissed afternoon, surrounded by nature's beauty, sharing laughter and enjoying an array of delectable gluten-free treats.
Schär and Ripple Street will provide you with everything you need to make your picnic party an unforgettable experience. From a party pack, containing a variety of Schär products, to exclusive offers, coupons, games, and other surprises – you and your guests will be well taken care of.
Share Your Experience:
As a host, your valuable insights and feedback are crucial. After the picnic party, you'll be asked to share your thoughts and experiences with Schär and Ripple Street. They genuinely appreciate your feedback, as it helps them improve their products and enhance future events. Your input can truly make a difference and shape the gluten-free community for the better!
Embrace the Role of a Host:
Whether you're a seasoned party planner or a new host, this opportunity allows you to sharpen your entertaining skills while enjoying the company of your loved ones. Take this chance to create a memorable event that showcases the versatility and deliciousness of Schär's gluten-free offerings. Hosting a Schär Gluten-Free Picnic Party is the perfect way to share your passion for food, create connections, and spread happiness.
Ready to Apply?
Don't wait any longer! The last day to apply to host a Schär Gluten-Free Picnic Party with Ripple Street is approaching. Secure your spot among the 250 selected hosts and get ready to embark on an adventure filled with scrumptious gluten-free delights, laughter, and wonderful memories.
Take the first step towards hosting a fantastic Schär Gluten-Free Picnic Party right now! Apply today and get ready to experience an unforgettable event that celebrates good food, great company, and the joy of sharing. Join the gluten-free revolution and let the flavors of Schär take center stage at your picnic party!
The post Apply to Host a Schär Gluten-Free Picnic Party with Ripple Street appeared first on The Freebie Guy®.
Claim this great opportunity today.