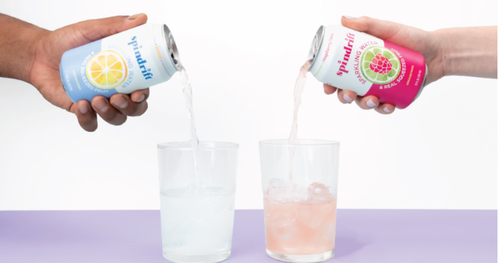 Title: Discover the Refreshing Taste of Spindrift Sparkling Water – Claim Your FREE Sample!
Introduction:
Quench your thirst with the pure, natural flavors of Spindrift Sparkling Water! Now, for a limited time, you can claim a FREE sample of this delightful beverage through the Send Me A Sample promotion. Don't miss out on the chance to experience the crisp, refreshing taste that Spindrift has to offer. Read on to learn more about this fantastic offer and how you can claim your free sample today!
Why Spindrift Sparkling Water?
Spindrift Sparkling Water sets itself apart from other carbonated beverages on the market with its commitment to using only real, simple ingredients. Made with real fruit juice and sparkling water, Spindrift is free from any artificial sweeteners, colors, or additives. Each sip is bursting with the vibrant flavors of real fruit, providing a refreshing and guilt-free hydration experience.
How to Claim Your FREE Spindrift Sparkling Water Sample:
Getting your hands on a FREE Spindrift Sparkling Water sample is as simple as asking your voice assistant! Whether you have an Alexa-enabled device or a Google Assistant device, follow these easy steps to claim your sample:
1. For Alexa: Say, "Alexa, ask Send Me a Sample."
For Google Assistant: Say, "Hey Google, ask Send Me a Sample."
2. When prompted to choose a sample, reply with "Spindrift Sparkling Water."
3. Select your preferred flavor from the two exciting options available.
4. Enjoy your FREE Spindrift Sparkling Water sample delivered straight to your doorstep!*
Discover the Flavors:
With Spindrift Sparkling Water, you have the option to choose from two tantalizing flavors for your free sample:
1. Spindrift Raspberry Lime: Experience a perfect balance of tangy raspberries and zesty lime, creating a harmonious combination that will awaken your taste buds.
2. Spindrift Grapefruit: Indulge in the bright and invigorating flavors of real grapefruit, providing a burst of refreshing citrus goodness with every sip.
Make sure to select the flavor that intrigues you the most and get ready to savor the delicious taste of Spindrift Sparkling Water.
*Note: Supplies are limited, so make sure to claim your free sample before they run out!
Why Try Spindrift Sparkling Water?
Apart from its use of real fruit juice, Spindrift Sparkling Water offers a range of benefits that make it an excellent choice for those seeking a healthier alternative to sugary drinks. Here are a few reasons why you should consider giving Spindrift a try:
1. All-Natural and Refreshing: Spindrift contains zero artificial sweeteners, flavors, or additives, providing a pure, clean taste that will leave you feeling refreshed and satisfied.
2. Hydration with a Twist: With a touch of carbonation and the invigorating essence of real fruit, Spindrift makes staying hydrated an enjoyable experience.
3. Versatile and Delicious: Enjoy Spindrift on its own, use it as a mixer for cocktails, or add it to your favorite recipes for a refreshing twist. The possibilities are endless!
Conclusion:
Don't miss out on this incredible opportunity to sample the sensational flavors of Spindrift Sparkling Water for FREE! Claim your free sample today by simply saying "Ask Send Me a Sample" to your Alexa or Google Assistant device, followed by "Spindrift Sparkling Water." Remember, there are two flavors to choose from, so select your preference and get ready to delight in the natural goodness of Spindrift. Cheers to a refreshing and revitalizing experience!
Please follow the instructions above to claim your free Spindrift Sparkling Water sample while supplies last.
Claim this great opportunity today.