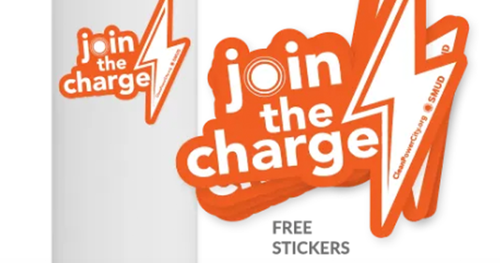 Title: Join the Charge with Free Stickers – Unleash Your Inner Activist!
Are you ready to join the charge and make a difference in the world? We've got something exciting for you – free Join the Charge stickers! These stickers are not just ordinary decals; they hold a powerful message that will ignite your passion for positive change. Head over and sign up to claim your free stickers now – it's time to take a stand and make your voice heard!
Join the Charge is a movement that empowers individuals like you to become the catalysts of change. It is a rallying cry to inspire a generation of fearless activists who are passionate about social justice, environmental sustainability, and community well-being. By displaying these stickers proudly, you become a beacon of hope, spreading awareness and encouraging others to take action alongside you.
The power of a sticker might seem insignificant at first, but it carries tremendous potential to make an impact. Whether it's on your laptop, water bottle, or even your car, these stickers will catch people's attention and spark conversations. They will prompt curiosity, ignite interest, and serve as a visual representation of your commitment to creating a better world.
By displaying a Join the Charge sticker, you become part of a community of like-minded individuals, all striving for positive change. It's a powerful reminder that you are not alone in your journey and that together, we can amplify our impact. Imagine the collective power of thousands of people displaying these stickers and spreading the message far and wide. It's a powerful symbol of unity and a call to join forces for a common cause.
Now, you might be wondering how you can get your hands on these remarkable stickers. It's simple! All you need to do is head over to our website and sign up to claim your free Join the Charge stickers. That's right, they are absolutely free – our way of encouraging and supporting your activism. By signing up, you will also become part of our community, receiving exclusive updates, inspiring stories, and opportunities to take action on various causes.
At Join the Charge, we believe that every act of change starts with small steps. By proudly displaying these stickers, you are taking that first step towards creating a ripple effect of positive change in the world. It's a symbol of your commitment to making a difference, no matter how small or large.
So, what are you waiting for? Don't miss out on this incredible opportunity to join the charge and claim your free stickers. Join the movement, share the message, and inspire others to take action. Together, let's break barriers, challenge norms, and strive for a more equitable and sustainable future.
Take a stand. Make a difference. Join the Charge.
Register now to claim your free Join the Charge stickers and let your voice be heard!
Note: You can include relevant images or graphics to enhance the blog, but be sure to keep the word count under 500 words.
Claim this great opportunity today.