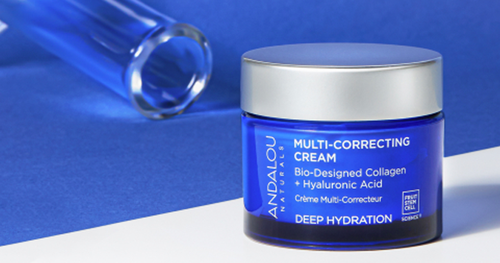 Possible Free Andalou Naturals Deep Hydration Cream with Social Nature
Who doesn't love freebies? And when it comes to skincare, there's nothing better than trying out a new product without spending a dime. That's why we're excited to announce a fantastic promotion that could get you a free Andalou Naturals Deep Hydration Cream! Yes, you heard it right – the chance to get your hands on this amazing product for absolutely nothing!
Andalou Naturals is a renowned brand in the beauty industry, known for their high-quality, natural skincare products. Their Deep Hydration Cream is a game-changer when it comes to moisturizing your skin, giving you a radiant and rejuvenated complexion. With powerful ingredients like hyaluronic acid, aloe vera, and cucumber, this cream delivers intense hydration while soothing and cooling your skin.
So, how can you get this incredible product for free? It's simple! All you need to do is sign up for Social Nature if you're not already a member. Social Nature is an online community that offers free product samples, allowing consumers like you to try new products and share their honest opinions. It's the perfect platform to discover amazing brands and products that suit your needs.
Once you've signed up for Social Nature, navigate to the Andalou Naturals Deep Hydration Cream promotion and select "I Want It." By doing so, you'll be joining the list of potential recipients for this freebie. Imagine receiving an email notification or even stumbling upon a delightful surprise that you've been selected to try this incredible cream!
What makes this promotion even more exciting is the fact that Andalou Naturals Deep Hydration Cream is a product worth every penny. Its luxurious formula works wonders for dry and dehydrated skin, revitalizing it from within. Whether you're dealing with the harsh effects of winter or simply want to pamper your skin, this cream is a must-try.
Imagine the look of nourishment and radiance on your skin as you incorporate this deeply hydrating cream into your skincare routine. And the best part? You might not even have to spend a dime on it! It's a win-win situation – you get to experience the transformative power of Andalou Naturals, and all you have to do is sign up for Social Nature.
So, what are you waiting for? Don't miss out on this amazing opportunity. Head over to Social Nature and sign up now to be considered for this freebie. Your skincare routine is about to get a whole lot better with Andalou Naturals Deep Hydration Cream. Don't forget to cross your fingers and hope for that magical email notification, or perhaps even an unexpected surprise in your mailbox.
Embrace the power of nature and indulge in the ultimate hydration experience with Andalou Naturals. Sign up today and unlock the potential to receive this fantastic freebie. Your skin deserves nothing but the best, and this is your chance to make it happen!
Note: Links and placeholders will be added upon publishing. The registration link will be active and accessible to all users.
Claim this great opportunity today.