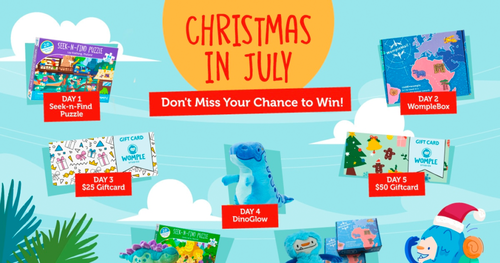 Womple Christmas in July Giveaway: Celebrate the Spirit of Giving All Year Long!
As summer temperatures heat up, it's easy to daydream about cooler weather, winter festivities, and the joy of Christmas. But why wait until December to revel in the magic of the holiday season? At Womple, we believe that the spirit of giving and spreading joy should be celebrated all year long. That's why we're thrilled to announce our Womple Christmas in July Giveaway!
Imagine snuggling up by the fireplace, sipping on hot cocoa, and admiring the twinkling lights of your very own Christmas tree. Sounds delightful, doesn't it? Well, you're in luck! In our Womple Christmas in July Giveaway, we're giving one lucky winner the chance to experience all the warmth and wonder of the holiday season, months ahead of schedule.
But what exactly sets the Womple Christmas in July Giveaway apart from other promotions? It's all about the magic we bring to the table. As firm believers in creating extraordinary experiences, we have crafted a special package that captures the enchantment of Christmas and delivers it right to your doorstep.
The Womple Christmas in July Giveaway features a handpicked selection of gifts guaranteed to make your heart skip a beat. From luxurious holiday-themed décor and cozy blankets to gourmet chocolates and merry tunes, this prize package will transport you to a winter wonderland, regardless of the temperature outside.
Aside from the delightful goodies, the winner will also receive our exclusive Womple experience. As experts in making dreams come true, we'll work closely with the lucky recipient to curate a personalized Christmas adventure. Whether it's organizing a surprise visit from Santa, arranging a virtual carol sing-along with friends, or even granting a heartfelt wish, our team is dedicated to making this Christmas in July truly unforgettable.
So, how can you be in the running for this once-in-a-lifetime opportunity? It's simple – just register for the Womple Christmas in July Giveaway! With just a few clicks, you could find yourself at the center of an immersive holiday experience that will create lasting memories for years to come.
Don't miss out on the chance to celebrate Christmas in July like never before. Whether it's a gift to yourself or a loved one, this giveaway is the perfect way to embrace the joy and love that the holiday season brings. Register now and let Womple sprinkle some magic into your life!
Remember, the Womple Christmas in July Giveaway is a limited-time opportunity, so make sure to secure your entry as soon as possible. Unwrap the spirit of giving, embrace the wonder of the holiday season, and let us shower you with the magic of Womple. Register today and get ready for a Christmas in July experience like no other!
Claim this great opportunity today.