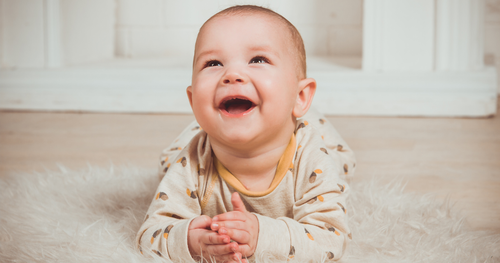 Attention all parents and caregivers! Are you looking to save some extra money on your baby essentials? Look no further because Gerber has an amazing opportunity for you! By signing up for their Baby Rewards program, you can score a FREE $5 to use on Gerber products. Yes, you read that right – free money to spend on all those important baby items!
Gerber, known for their high-quality and trusted baby products, understands the financial strain that can come with raising a little one. That's why they are offering this incredible promotion to give back to their loyal customers. Whether you're in need of diapers, baby food, or formula, this $5 can go a long way in helping you provide the best for your little bundle of joy.
Signing up for Gerber's Baby Rewards program is quick and easy. Once you're a member, you'll have access to exclusive discounts, coupons, and special offers tailored specifically to your baby's needs. Not only will you be saving money, but you'll also be part of a community that supports and understands the joys and challenges of parenthood.
But wait, there's more! Gerber goes beyond just providing great savings. They also offer a wealth of resources and expert advice to guide you through each stage of your baby's development. From nutritious meal plans to helpful tips on sleep training, Gerber is committed to being your partner in nurturing your child's growth.
So why wait? Take advantage of this fantastic opportunity and sign up for Gerber's Baby Rewards program today. It only takes a few minutes and the benefits are immeasurable. Imagine all the money you'll save on the products your baby needs, while also knowing that you're giving them the very best.
To register, simply visit Gerber's website and look for the Baby Rewards program. Fill out the required information, including your contact details and your baby's birthdate. Once you're enrolled, keep an eye out for exclusive promotions and savings delivered straight to your inbox.
By joining Gerber's Baby Rewards program, you're not only accessing incredible savings, but also becoming part of a supportive community. Share your parenting journey with other moms and dads, and gain valuable insights from experts in baby care.
Don't miss out on this limited time offer – claim your FREE $5 from Gerber and start saving today. Your baby deserves the best, and Gerber is here to help you provide it. Sign up for the Baby Rewards program now and enjoy all the benefits that come with it. Get ready to give your little one the care they deserve without breaking the bank.
—
Please note: The link to register for Gerber's Baby Rewards program will be added once the blog is published.
Claim this great opportunity today.