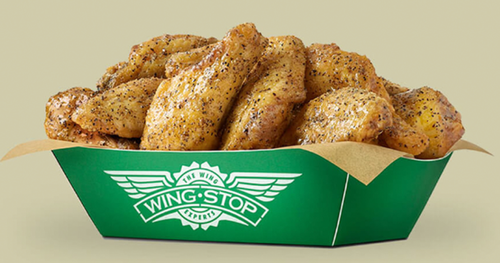 Title: Get Ready to Savor FREE Wings at Wing Stop on National Chicken Wing Day!
Intro:
Calling all wing enthusiasts and flavor fanatics! Get ready for the ultimate feast at Wing Stop on July 29th, 2023 to celebrate the most finger-licking day of the year – National Chicken Wing Day! On this special occasion, Wing Stop is treating you to a tantalizing offer – five mouthwatering wings absolutely FREE! Indulge in a delicious culinary experience that will leave you craving for more. Read on to find out how you can score this irresistible deal.
Unleash Your Cravings:
Picture yourself sinking your teeth into succulent, tender chicken wings dressed in your favorite flavors. Whether you're a fan of traditional buffalo sauce, tangy barbecue, or fiery Cajun seasoning, Wing Stop has got you covered. Their extensive menu offers a wide range of sensational flavors that cater to all taste preferences.
How to Claim Your FREE Wings:
To claim your five FREE wings from Wing Stop, all you need to do is use the exclusive code "FREEWINGS" when placing your order online or through the Wing Stop app. It's that simple! Indicate your preferred flavors, and get ready to enjoy a delectable wing experience like never before. Don't delay because this offer is valid only on July 29th, 2023!
Experience Wing Stop Like Never Before:
Wing Stop is renowned for their unbeatable chicken wings, which are cooked to perfection to ensure the utmost flavor and tenderness. Whether you're planning a gathering with friends, a family meal, or just indulging in a satisfying solo treat, Wing Stop has the perfect wings to satisfy your craving.
Not Just Wings:
Apart from their irresistible wings, Wing Stop offers an array of delicious sides to complement your meal. From crispy fries to mouthwatering veggie sticks, you can create a satisfying and well-rounded feast that will leave your taste buds dancing with joy.
Don't Miss Out on More Freebies:
At Wing Stop, they believe that good things come in pairs, which is why they've got even more exciting offers for you to enjoy. Stay tuned for exclusive promotions and freebies that will make your wings experience even better. Keep an eye out for the latest updates and more freebie opportunities that you won't want to miss!
Conclusion:
Mark your calendars for July 29th, 2023, and make sure you don't miss out on this epic opportunity to savor five absolutely FREE wings at Wing Stop. This National Chicken Wing Day celebration is guaranteed to satisfy your cravings and leave you wanting more. Take advantage of this generous offer by using the code "FREEWINGS" when placing your order online or through the Wing Stop app. Don't forget to explore their delicious sides to complete your meal.
Embrace the flavors, indulge in the feast, and let Wing Stop take you on an unforgettable wing journey. Get ready for a taste sensation like no other – we look forward to serving you the perfect wings on National Chicken Wing Day!
Claim this great opportunity today.