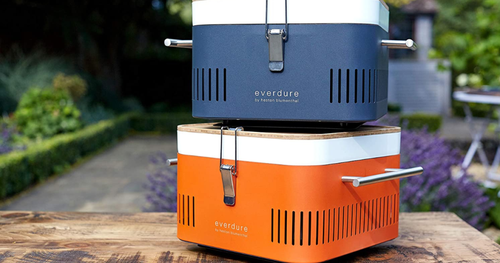 Title: Elevate Your Summer with the Canyon Bakehouse Tastecation Giveaway!
Attention all food enthusiasts and picnic lovers! Are you ready to embark on a tantalizing culinary journey while enjoying the great outdoors? Look no further because Canyon Bakehouse has something special in store for you – introducing the Canyon Bakehouse Tastecation Giveaway!
Imagine yourself savoring delicious, mouthwatering meals with your loved ones, enveloped in the warmth of the summer sun and a gentle breeze. With the Canyon Bakehouse Tastecation Giveaway, you have the chance to win an incredible prize pack that will enhance your outdoor dining experiences!
This is no ordinary prize pack – it's a Tastecation prize pack! What exactly does that mean? Well, let me fill you in! The lucky winner will receive an Everdure CUBE Portable Charcoal Grill, a Canyon Bakehouse Picnic Blanket, and five VIP Canyon Bakehouse coupons. With these extraordinary items at your disposal, you'll be well-equipped to create unforgettable culinary moments and enjoy delectable gluten-free meals wherever your adventures take you.
First and foremost, let's talk about the Everdure CUBE Portable Charcoal Grill. This compact and stylish grill is the ultimate companion for outdoor gatherings. Whether you're planning a picnic with friends or a family barbecue at the park, the CUBE grill will ensure that your food is cooked to perfection. Its convenient design allows for easy transportation, so you can effortlessly bring the grill along on all your summer escapades.
To make your outdoor feasts even cozier, the Canyon Bakehouse Picnic Blanket is the ideal addition. With its soft and comfortable material, this blanket provides the perfect spot for you and your loved ones to relax and indulge in your favorite gluten-free goodies. Whether you're spreading it out on the beach or setting it up in a grassy meadow, this picnic blanket will undoubtedly elevate your Tastecation experience.
Now, let's not forget about the VIP Canyon Bakehouse coupons! These valuable coupons will give you access to an array of mouthwatering gluten-free bread, bagel, and baked goods options. Whether you prefer classic white bread, seeded whole grain, or something more unique like Hawaiian sweet bread, Canyon Bakehouse has a delightful selection to satisfy all taste buds. With these coupons in hand, you can embark on a gluten-free taste adventure like no other!
Participating in the Canyon Bakehouse Tastecation Giveaway is as easy as can be. With just a single entry, you could be the lucky winner of this incredible prize pack. So, what are you waiting for? Don't miss out on this opportunity to elevate your summer experiences and create delectable memories with your loved ones.
To enter the Canyon Bakehouse Tastecation Giveaway and increase your chances of becoming the proud owner of the Tastecation prize pack, simply head over to the giveaway page and fill out the entry form. It's that simple!
So, mark your calendars and set a reminder – the Canyon Bakehouse Tastecation Giveaway ends on August 1, 2023, at 11:59PM PST. Remember, this is your chance to win a Tastecation prize pack and transform your outdoor dining adventures into unforgettable culinary experiences. Don't miss out – enter now for a chance at this incredible prize!
Embrace the joy of picnics, relish the pleasure of gluten-free food, and ignite your Tastecation with Canyon Bakehouse. Enter the giveaway today and get ready to elevate your summer gatherings like never before!
[Register for the Canyon Bakehouse Tastecation Giveaway on our website now and make every outdoor dining experience a moment to remember!]
Claim this great opportunity today.