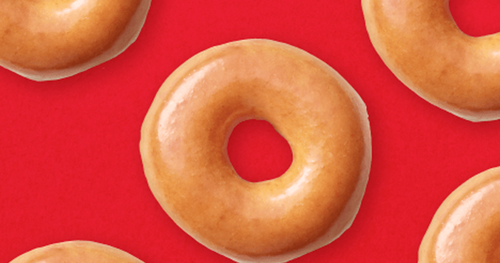 Free Krispy Kreme Doughnut
Attention doughnut lovers! We have some exciting news for you. Krispy Kreme is giving away free doughnuts! Yes, you read that right – FREE doughnuts! If you've been craving that sweet, melt-in-your-mouth goodness that only Krispy Kreme can offer, this promotion is just for you.
Here's how it works. On Tuesday or Wednesday, August 1-2, all you need to do is visit any Krispy Kreme shop nationwide and show a lottery ticket. It doesn't matter if it's a ticket from the big drawing on Tuesday night or a losing ticket from any lottery, as long as you have one, you're eligible for a free Krispy Kreme Original Glazed Doughnut.
This promotion is the perfect opportunity to satisfy your sweet tooth and indulge in the iconic taste of Krispy Kreme doughnuts. Whether you're a fan of their classic Original Glazed Doughnut or you want to try one of their delicious seasonal flavors, this freebie is sure to hit the spot.
Picture yourself sinking your teeth into a warm, freshly made doughnut. The moment you take that first bite, you'll experience the heavenly combination of a light, fluffy texture and a sweet glaze that melts in your mouth. Each doughnut is handcrafted to perfection, ensuring that every bite is an absolute treat.
And the best part? There's no limit to the number of stores where you can claim your free doughnut. Krispy Kreme has shops all across the nation, so you can easily find a location near you. Whether you're in the heart of the city or out in the suburbs, there's bound to be a Krispy Kreme shop just a short drive away.
Imagine walking into a Krispy Kreme shop, lottery ticket in hand, and being greeted by the irresistible aroma of freshly made doughnuts. The friendly staff will be waiting to serve you with a smile, handing you your free Original Glazed Doughnut. You'll feel the excitement build as you watch them prepare your treat, knowing that you're about to enjoy a delightful moment of bliss.
But remember, this promotion is available for a limited time only, so make sure to mark your calendars for August 1-2. Don't miss out on this fantastic opportunity to enjoy a free Krispy Kreme doughnut. Treat yourself to a little indulgence and experience the joy of biting into a truly delicious doughnut. You deserve it!
So, what are you waiting for? Clear your schedule, gather your lottery tickets, and head over to your nearest Krispy Kreme location. Don't miss your chance to savor the mouthwatering goodness of their famous Original Glazed Doughnut, absolutely free!
Go ahead and make your day a little sweeter. Register now and indulge in the delectable delight of a Krispy Kreme doughnut.
Claim this great opportunity today.