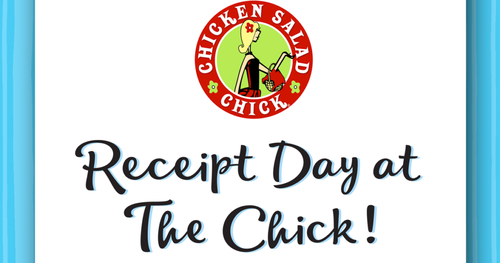 Receipt Day at Chicken Salad Chick – Coming Soon!
Mark your calendars! If you have a Chicken Salad Chick nearby, you might just want to take advantage of this offer! Select Chicken Salad Chick locations will be participating in "Receipt Day", and trust me, you don't want to miss out!
So, what is Receipt Day all about? Well, here's the deal. On Receipt Day, which is happening soon, you can place an order at participating Chicken Salad Chick locations and save your receipt. But, why would you want to do that, you might be wondering?
Well, here's the exciting part – by saving your receipt from your order on Receipt Day, you can enjoy some fantastic benefits and freebies. Yes, that's right! Chicken Salad Chick values its customers, and they want to show their appreciation by giving back.
Now, you must be curious about the kind of perks you can get on Receipt Day. Let me give you a sneak peek of what you might have in store. Picture this – a complimentary side of your choice! Who doesn't love a little something extra with their order? It's the perfect opportunity to treat yourself and try something new.
But it doesn't stop there! Chicken Salad Chick has even more surprises lined up for you. How about a free drink to go with your delicious meal? Yes, that's right! When you present your receipt from Receipt Day, you'll get to enjoy a refreshing beverage on the house. It's the cherry on top of your Chicken Salad Chick experience.
And that's not all – there may even be more surprises waiting for you on Receipt Day. Chicken Salad Chick loves to keep things exciting, so make sure to mark August 3rd, 2023, on your calendars and plan your visit to a participating location accordingly.
Now, you might be wondering how to make sure you don't miss out on this incredible opportunity. It's simple – all you have to do is register! By registering for Receipt Day, you'll receive all the latest updates, information, and reminders about this exclusive event. You don't want to be left out in the cold when everyone else is indulging in free extras from Chicken Salad Chick.
To register, simply visit the Chicken Salad Chick website or sign up for their newsletter. By doing so, you'll be among the first to know about all their upcoming promotions, events, and special offers. Plus, you'll have peace of mind knowing that you won't miss out on any future Receipt Days.
So, what are you waiting for? Don't let this opportunity slip away. Register now and mark your calendars for August 3rd, 2023. Come prepared to enjoy the delicious flavors of Chicken Salad Chick and be pleasantly surprised with the added perks!
Remember, Receipt Day is all about making your dining experience even better. Trust me, you won't want to miss out on these fabulous freebies. Register today and get ready to savor the taste of Chicken Salad Chick with some amazing surprises in store for you!
[Register now and get ready to enjoy Receipt Day at Chicken Salad Chick!]
Claim this great opportunity today.